SolariA Furl Breathable Roll-Up
Our best retractable, radial-cut sun shade sail
Solaria Furl with breathable fabric, rolls up on itself thanks to the Maanta furler.
Designed, developed and manufactured in-house by our crew, it boasts of Made in Italy quality and unique design.
Oversized furler, aluminum and stainless steel 316, are just some of its strengths. Nautical quality at the service of sun shade sails!
Ideal for creating a relaxing corner in our garden, backyard or deck; with the roll-up, retracrable shade sail you can spend time in the shade with family or friends during hot summer days.
Solaria Furl breathable is made with a microperforated fabric that can vent heat upward.
The included furling-system allows you to quickly close the sail again in case of prolonged absences or during periods of inactivity.
The Solaria Furl retractable roll-up sail is made with radial cut with Meshnet 320 grams resists wind up to 65 km/h and is entirely Made in Italy.
Breathable, radial-cut roll-up sun shade sail
Manual winding (no maintenance)
Retractable in 27 seconds
S-GRIPP technology (eliminates top slipping)
Corners with multilayer reinforcement and marine-grade 316 stainless plates
Do-it-yourself installation (no skilled labor required)
Over 15 standard sizes or custom sizes via our (

online configurator

)
Questions about the product or design? Get our free design help now!

Description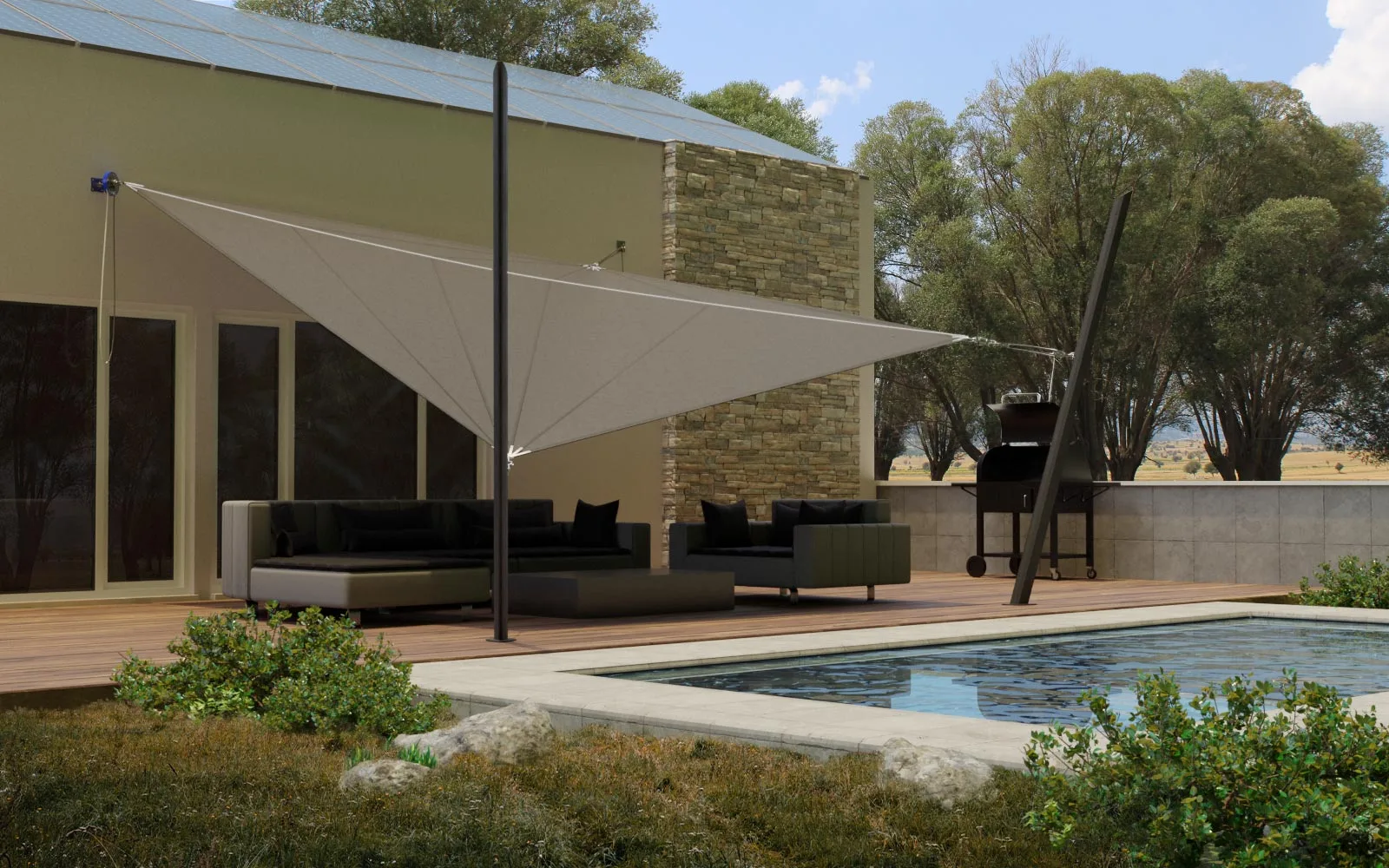 SOLARIA FURL shade: The roll-up sail of nautical design and technology
Nautical technology in the service of roller blinds.

Solaria Furl was born from the need to manually furl shade sails, quickly and safely.


The performance of the product combined with ease of use allows opening and closing maneuvers in a maximum of 27 seconds. The same can be said for installation and set-up operations that will be within everyone's reach.


FURLER (winder): The nautical quality of the materials (aluminum and 316 stainless steel) combined with the unique design means that this product sets a new standard in roll-up retractable shade sail canopies.


Solaria: Radial-cut sail that allows greater distribution of tension, structural rigidity, durability and better wind resistance (up to 62 40mph).


Radial cutting invented in 1983 by sails designer Tom Schnackenberg introduced a revolution in terms of fiber orientation and thus cutting as well as seaming. Thanks to this type of processing we have sails that are more resistant to wind, with greater strength even over time due to the more even tension and load distribution.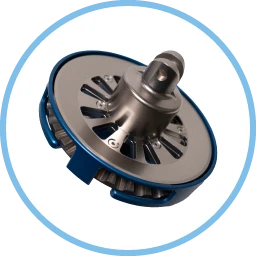 We started with the idea of using a nautical gennaker furler. Soon, however, the Maanta team realized that the requirements for a shade sail are completely different. After many months of planning, we made the Maanta furler from a solid block of aluminum.
This machining from solid makes the piece unique not only in design but also in technical features.
Large bearings are specifically needed to support the horizontal force exerted by the sail, thus solving another major critical issue.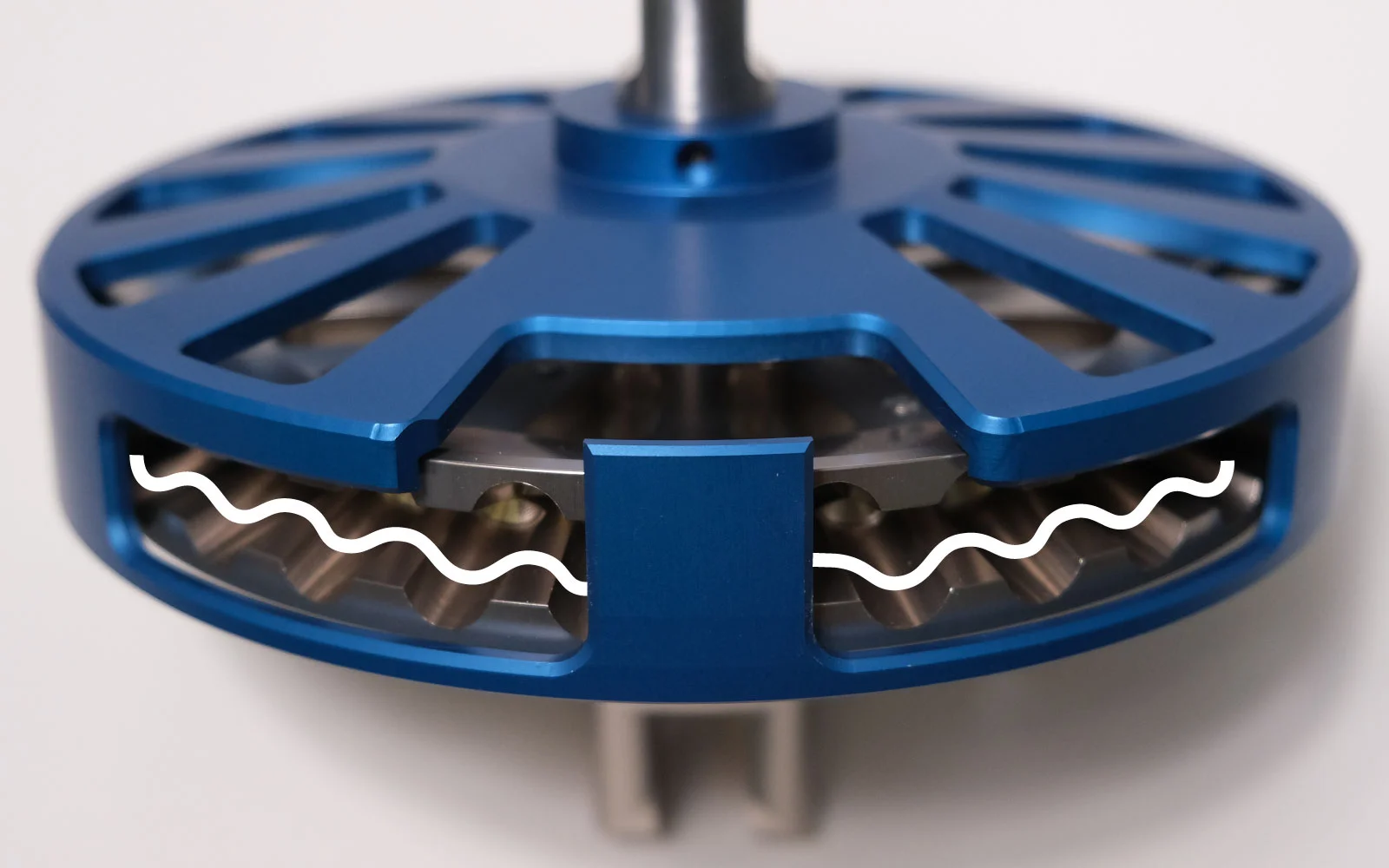 WHY CHOOSE A MAANTA FURLING SAIL?
The particular S-shaped hollow of the furler (S-GRIPP technology), has been studied in order to prevent the endless line necessary for winding from slipping. It is made from solid, i.e., 'hollowed out' from a block of aluminum by means of a CNC lathe.


Very elaborate milling ensures a performance suitable for shade sails and a unique design. This solution requires some very complicated machining but eliminates any risk of rope slippage that would cause difficulties in opening and closing. Rope wear is also greatly reduced compared to a classic nautical furler.
THE TECHNOLOGIES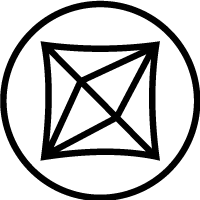 RADIAL STITCHING:
Radial seams, among other advantages, better withstand the stress of continuous winding and unwinding.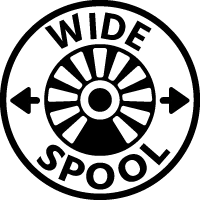 WIDE SPOOL:
Larger diameter coil increases the speed of opening and closing.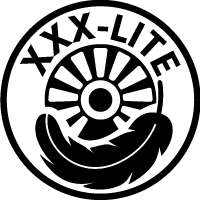 XXX-LITE:
The lightness created through design and choice of materials enables faster and more effective windings.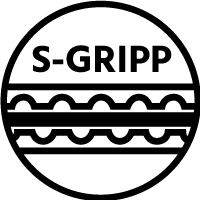 S-GRIPP:
The special S-shaped groove deforms the nautical rope and ensures greater grip, less wear and tear, and more effective and safer windings.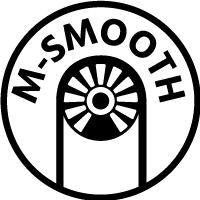 M-SMOOTH:
Maanta smooth! No rod and no winding winch.
The furling system via nautical rope ensures smoothness in every maneuver and is designed to be installed just as smoothly and pleasantly!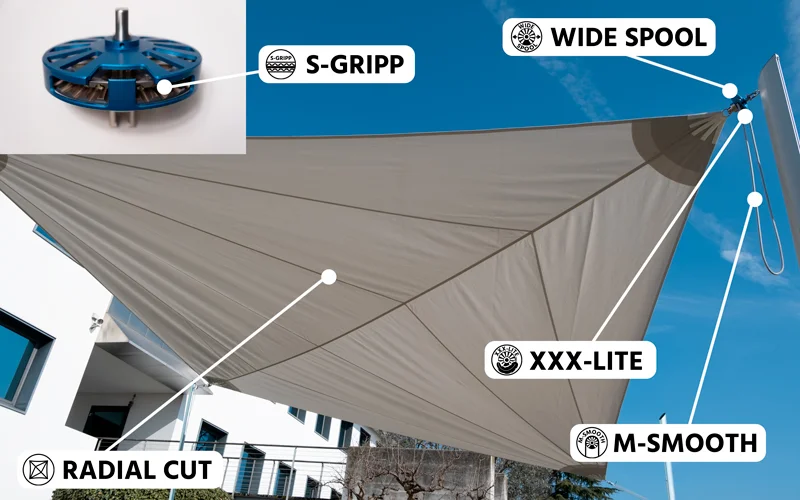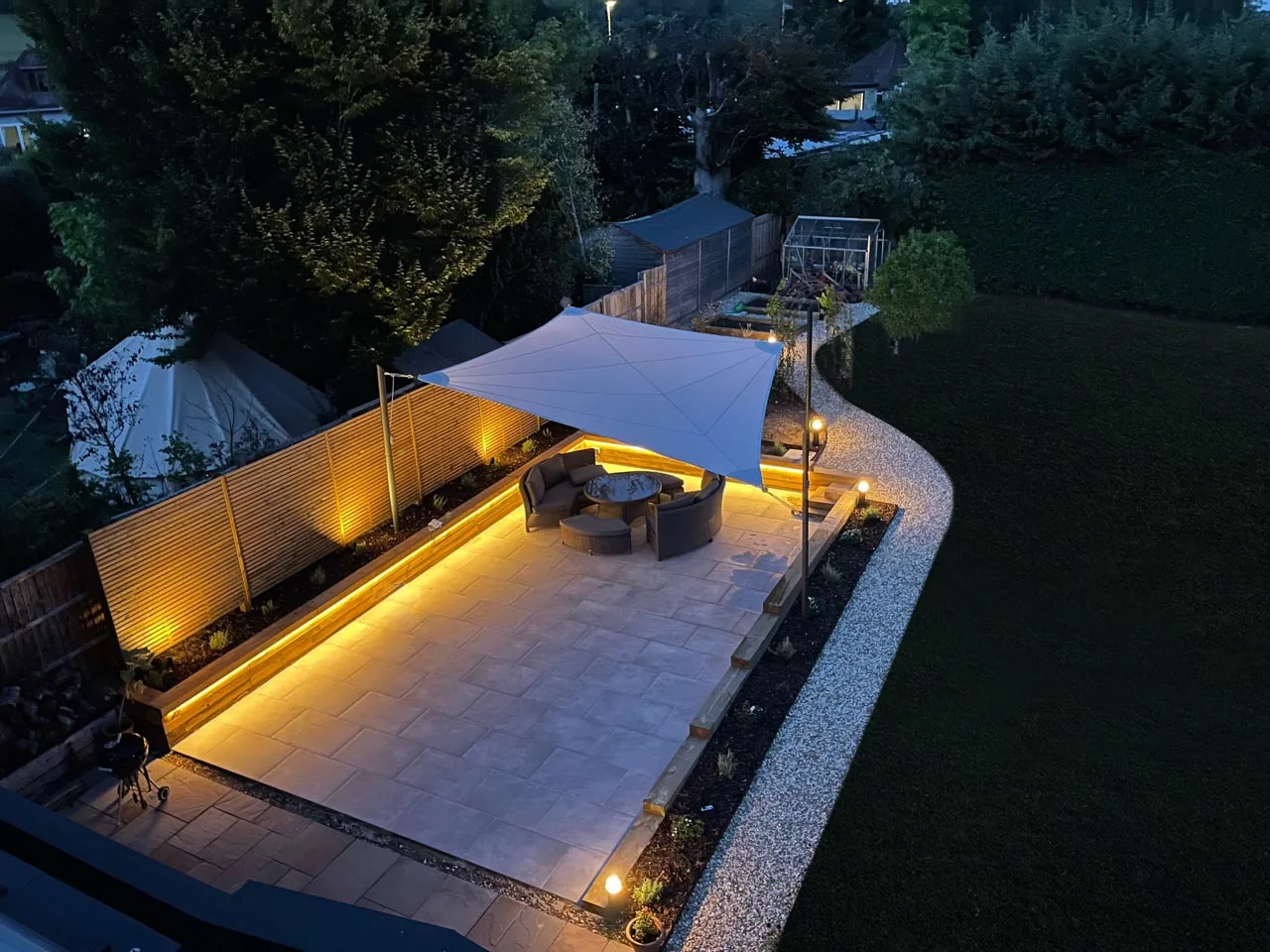 BENEFITS
1 STEP CONFIGURATION: Muscle Kit X3 included
Thanks to the included Muscle X3 kit with a stainless steel wall plate, you will be able to tension the sail diagonally without having to measure to the centimeter. Never again will sails be too small or too big: in just one step you will be able to configure the sail and have it at home ready for installation.

COVER CAN BE OPENED/CLOSED IN SECONDS
In seconds, with minimal force we will go from sunshine to shadow, from starry sky to modern cover!

DESIGN
The design of the furler is modern, essential and minimal. It is inspired by modern nautical furling but also by wide-ranging elements of furniture and objects.

ROBUST MATERIALS, MAINTENANCE-FREE
The choice of combining nautical and durable elements was made to avoid wear and tear problems that would be very troublesome.
ENVIRONMENTAL RESPECT
Aluminum, stainless steel and the fabrics used are easily recyclable and environmentally friendly materials. All Maanta shipments are also made with 'UPS Carbon Neutral' service to fully offset the CO2 produced by transportation!

EASE OF UNLOADING AND ASSEMBLY
Upon receipt of goods, there will be no need for forklifts. Assembly will take about 30 minutes.

A LITTLE HISTORY ON THE DESIGN OF THE FURLER MAANTA
Our research and development crew worked on this project for a long time. Our best sun sail needed a smart system so that it could be furled and unfurled at will. We started by analyzing the best players in the nautical market, however, considering the fact that furlers, or nautical furlers, furl vertically while sail awnings furl horizontally-the distribution of forces is therefore completely different.


We then started by creating a WIDE SPOOL spool that allows more fabric to be wound than we had seen.


In the hand, the solidity of the furler is immediately noticeable. The robustness of the furling mechanism is essential to ensure smoothness and ease of operation. The design and rigorous choice in nautical materials was made to meet the XXX-LITE standards we set for ourselves.


One of the most common problems in the use of nautical furlers is slippage of the line. In order not to have to resort to hairy lines that wear easily, we have devised our S-GRIPP technology: through a forced S-shaped path the line is 'embedded' in the hollow. This ensures less wear, a secure grip and effective windings without risk of slipping due to the load.


After several tests, here we are at the end of the path:SOLARIA FURL the first designer roll-up sail awning produced with nautical materials and technologies.
Data sheet
SOLARIA FURL shading: THE MANUAL ROLL-UP SHADE SAIL
Maanta's research and development team was well attentive to the needs and demands of customers, thus integrated nautical technology to shade sails with breathable fabric.
Solaria Furl was born from the need to manually furl shade sails, quickly and safely.

The Maanta furler is made of anodized aluminum and painted in a "stainless steel" finish. The furler has extra-robust bearings to ensure better smoothness even under load. This detail is because the shade sails work horizontally and not vertically!

Solaria Furl with breathable fabric contains: the Furl Kit, consisting of furler, swivel, Muscle X3 system with a stainless steel wall plate and endless line.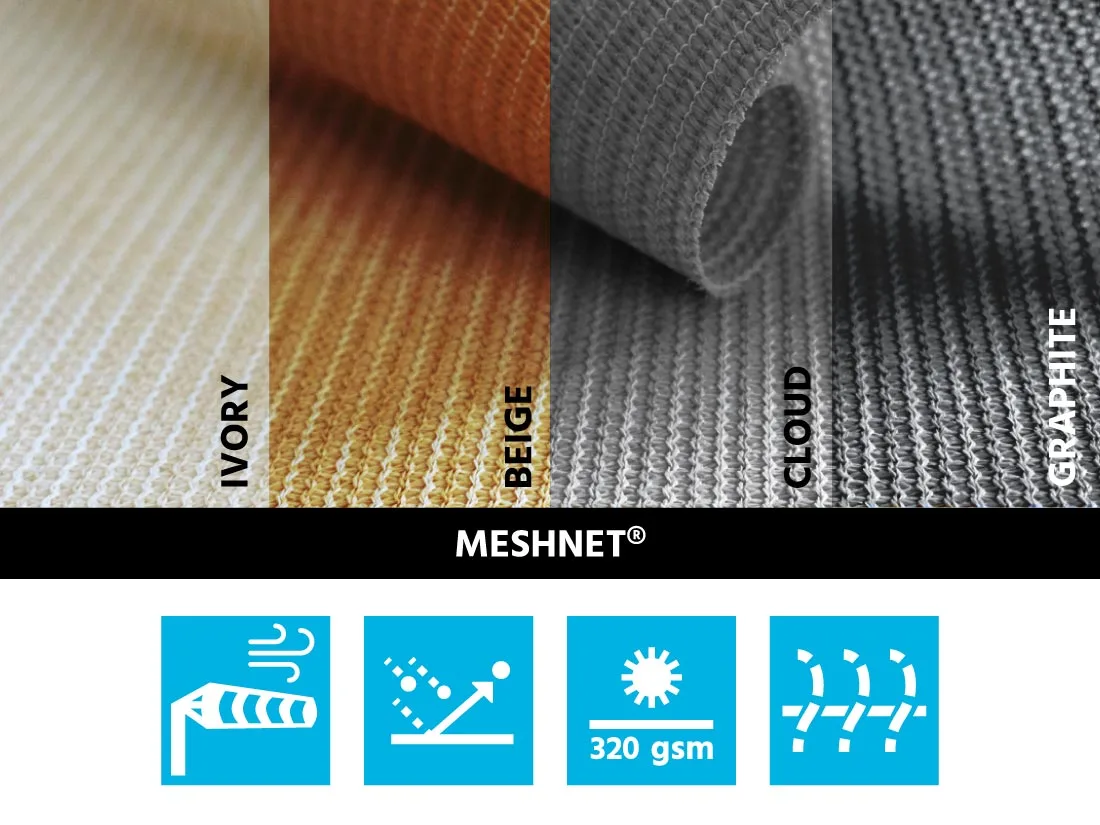 MESHNET® 320 BREATHABLE FABRIC
The 320 gsm Meshnet® protects against harmful UV rays, the cause of many skin problems, by effectively providing about 90 percent shade factor.

Meshnet® is an anti-mold fabric with strong resistance against chemicals.

The fabric is micro-perforated and allows heat to vent upward, ideal for very windy areas, allows strong gusts to pass through.

It is a hail-resistant fabric; the fabric is not waterproof.

Meshnet® is available in 4 colors: ivory, beige, cloud and graphite.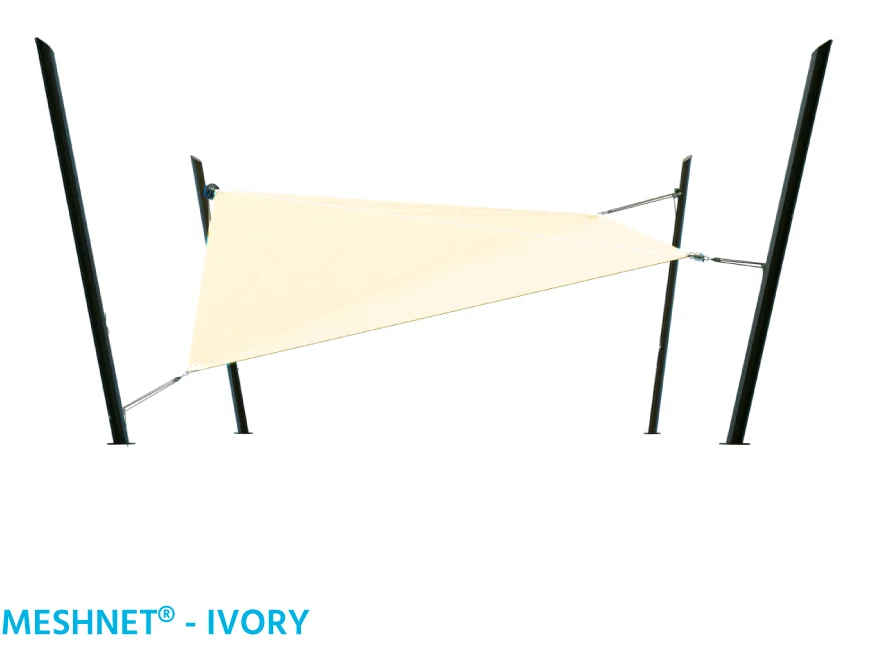 Data sheet
Model:

Solaria FURL breathable

Available sizes:

Standard and Custom via online configurator

Overall weight
Variable based on size
FABRIC

Fabric types

Meshnet: Virgin HDPE Polyethylene

Fabric weight

Meshnet: 320 gsm

Waterproof

No

Sealed seams

No

Wind resistance

Fabric cut

Radial
STRUCTURE

Body

Material: Aluminum and Stainless Steel AISI 316

Color: Anodized blue and stainless steel

Swivel

Material: Aluminum

Color: Stainless steel

Rope

Hand-spliced rope

PACKAGING

Box sizes

2 boxes, maximum size 19x24x27 inches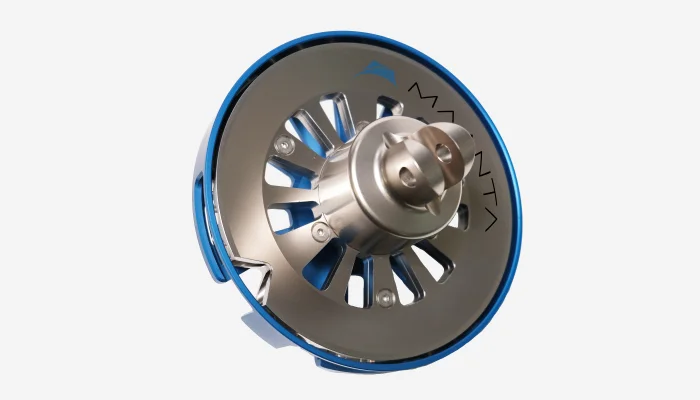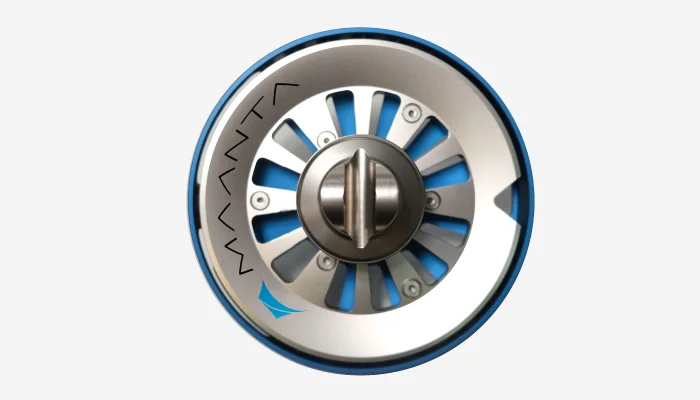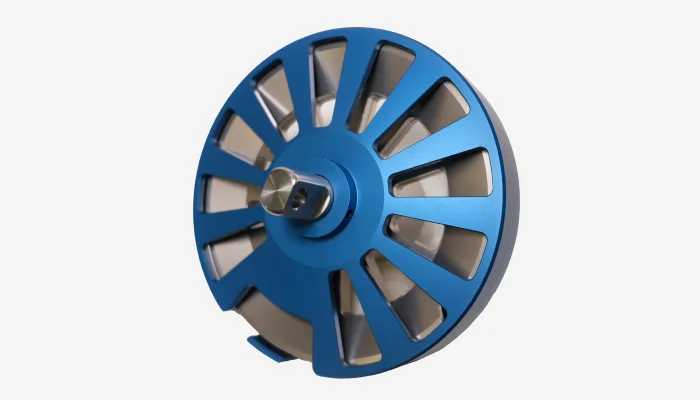 Package contents and giveaways
PACKAGE CONTENTS
Solaria FURL breathable contains all the necessary accessories. This sales policy will allow you to have a complete product without any surprise.

On this page you will find the items included in the package of the furling sail.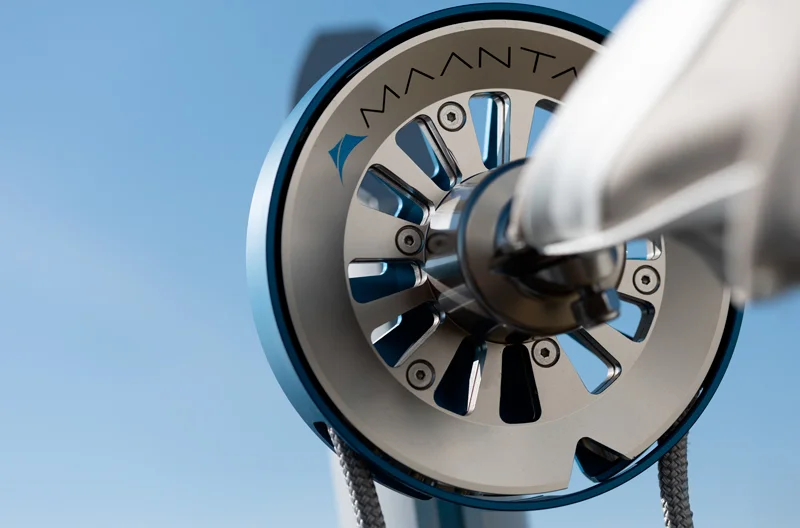 MAANTA FURLER
The furling drum is the heart of the furling system, by means of a hand-spliced endless line, which is embedded in the hollow with S-GRIPP technology, it allows turning by causing the sail to roll in on itself.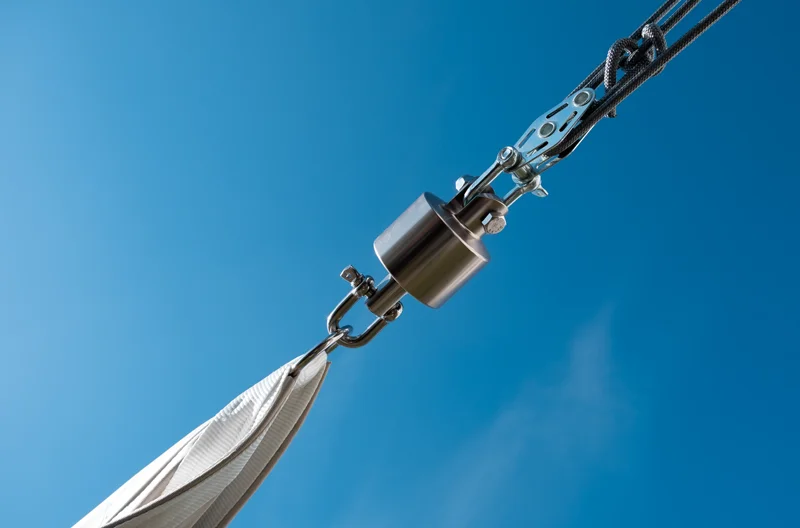 Winder swivel
The swivel is installed on the opposite side of the furler. Thanks to the bearings, it allows the sail to furl without stressing the fabric.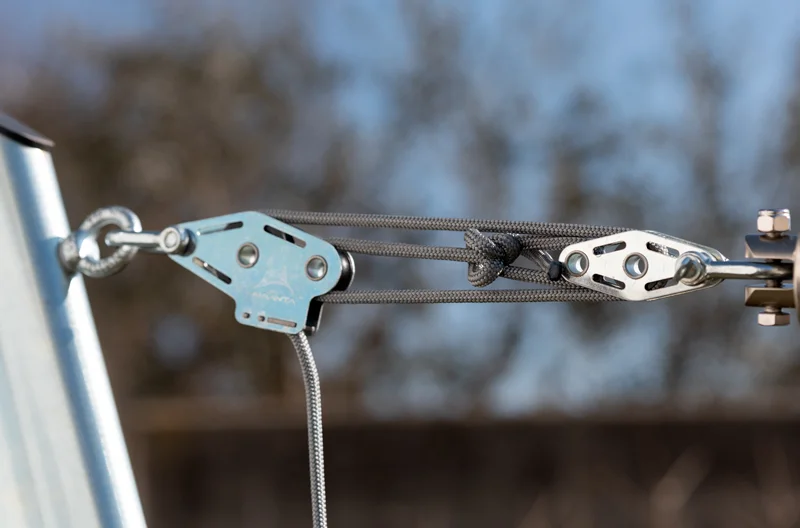 Muscle X3 with wall plate
The system includes a Muscle X3 kit with wall plate, our tensioning system via pulley transmission that allows the sail to be tensioned and the furling diagonal to be secured.
This does not include additional anchors, which may be chosen according to the number of corners to be fixed. See installation examples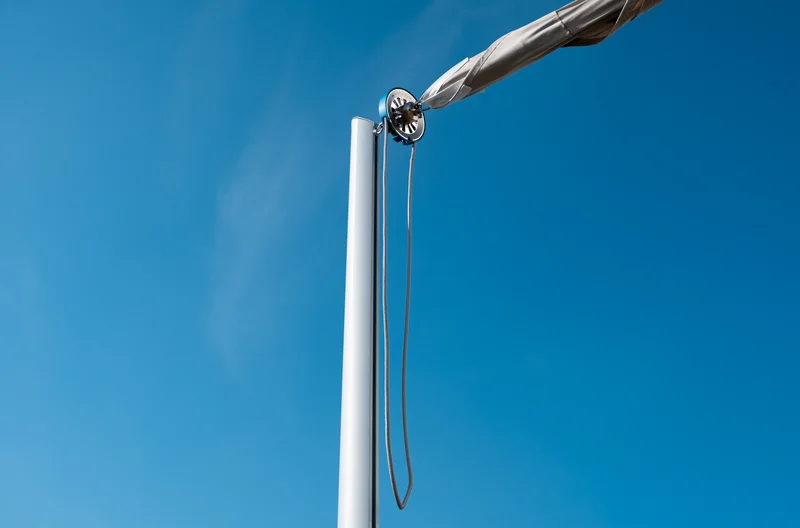 The line used to furl the sail is endless. This avoids having dozens of meters of line that would fall to the ground. The joining is done by hand in Italy.
INSTALLATION EXAMPLES AND OPTIONAL ACCESSORIES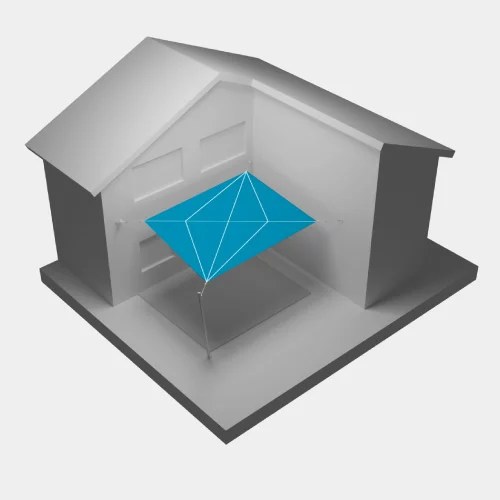 Two walls and a Maanta pole
The diagonal
rolling shutter
BC will be fixed to the two walls. The Furler and its swivel will need to be attached via two optional Muscle X3 kits.
Optional accessories for this configuration:
1 x pole
Alu Simple
or
Ulisse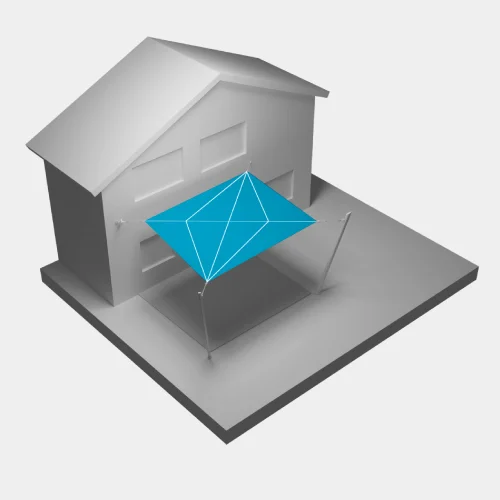 One wall and two Maanta poles
The BC roll-up diagonal will be attached to the wall and the shade sail pole. Maanta poles already contain the Muscle X3 kit.
Optional accessories for this configuration:
2 x poles
Alu Simple
or
Ulisse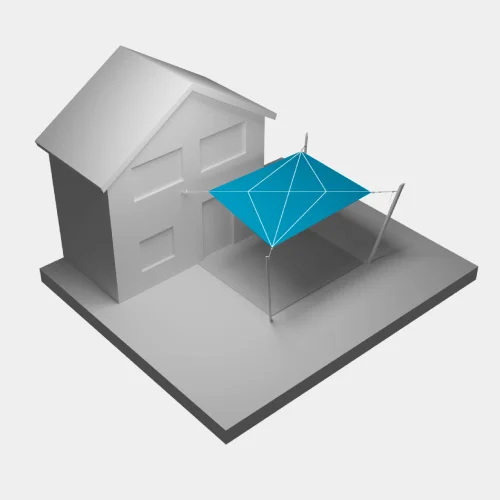 One wall kit and three Maanta poles
The BC roll-up diagonal will be attached to the wall and the shade sail pole. Maanta poles already contain the Muscle X3 kit.
Optional accessories for this configuration:
3 x poles
Alu Simple
or
Ulisse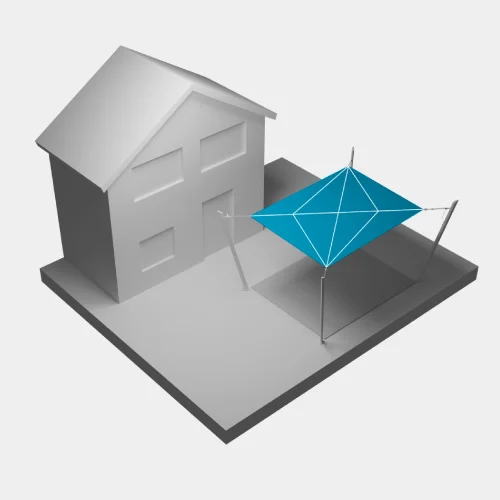 Four Maanta poles
The roll-up diagonal BC will be attached to the two poles that are included with the Muscle X3 kits.


Optional accessories for this configuration:
4 x poles
 Alu Simple
or
Ulisse