OUR SHADE SAIL FABRICS: CHARACTERISTICS AND STRENGTHS
The sun sails from the Maanta catalog are available in 4 different fabrics.
The entry-level Easy Shade Sails are made in the waterproof version with a 160 gsm PU double-coated polyester while the breathable versions are made with a 180 gsm high density virgin polyethylene (HDPE).
THE 4 FABRICS OF MAANTA SAILS
Polyester
Purishade®
Virgin HDPE
Meshnet®
Type of fabric
Polyester
Polypropylene (Olefin)
Polyethylene
high density
Polyethylene
high density
Fabric weight
160 gsm
270 gsm
180 gsm
320 gsm
Eco-compatibility

3/5

5/5

3/5

3/5

Sealed seams
Yes
Yes
No
No
Color persistence

3/5

5/5

5/5

5/5

Resistance to tear/hail

3/5

4/5

4/5

5/5

Impermeability

5/5

5/5

1/5

2/5

Water runoff
90%
100%
20%
40%
Condensation risk

3/5

-
-
-
Resistance to
water column
2 inches
20 inches
0
0
Perceived freshness

2/5

4/5

4/5

5/5

Resistance to mold

3/5

5/5

5/5

5/5

Abrasion resistance

3/5

5/5

4/5

5/5

Resistance to tension

3/5

4/5

4/5

5/5

 
 
Discover Purishade®
 
Discover Meshnet®
| | | | |
| --- | --- | --- | --- |
| Fabric Comparison | Purishade® | Famous polyester | Famous acrylic |
| Material | Solution dyed polypropylene | 100% solution dyed PET | Solution dyed acrylic |
| Weight | 270 gsm | 300 gsm | 295 gsm |
| Environmental impact | 37 | 44 | 52 |
| Tensile strength | 2400x1700 | 2100x1400 | 1250x880 |
| Taber abrasion (cyc til b/t) | 35.000 | 600 | 100 |
| Respiration (g/sgm/24h) (ASTM E96 BW) | 2.500 | 400 | 800 |
| Water column (mm) | 20 inches | 18 inches | 16 inches |
| UPF | 50+ | 50+ | 50+ |
| Color fastness to light UNI EN ISO 105-B04 | 7/8 | 7/8 | 7/8 |
| | Discover Purishade® | | |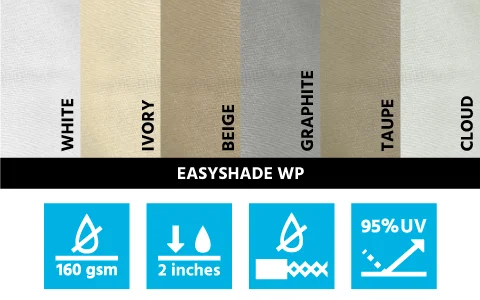 POLYESTER  WP 160gsm
A 160 gsm polyester fabric with double PU coating.
Thanks to some technical features and sealed seams, it offers good waterproofing and tension. It is certainly a reliable fabric for the entry level range, which performs its rain protection functions well.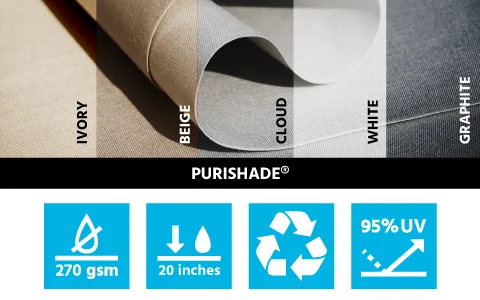 An environmentally friendly fabric, made of highly ecological polypropylene and suitable for recycling. It combines excellent mechanical properties (tensile strength, tensile strength) with a great balance between impermeability (20 inches water column) and breathability: this helps us to have an excellent exchange of air useful for perceiving a much lower temperature during the summer (37% heat reduction). The persistence of color is fantastic over time and evidenced by the result of laboratory tests (7/8 ISO 105B02).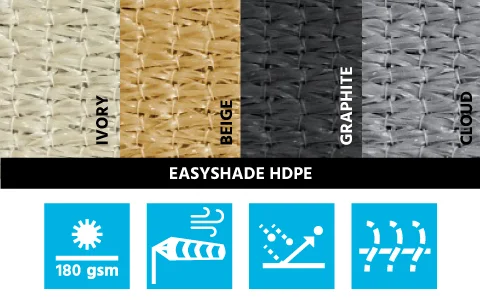 POLYETHYLENE HDPE 180gsm
The 180 gsm woven virgin polyethylene is a reliable and functional entry level fabric. It has excellent wind resistance and thanks to its woven mesh it allows the outflow of heat upwards, creating cool areas. Particularly suitable for bathing establishments or covering car parks.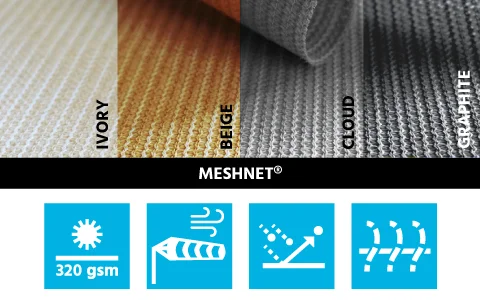 MESHNET® 320gsm
Our Meshnet 320 gsm is an extremely robust woven virgin polyethylene. Thanks to this feature, it is able to form a heat shield that allows for fresh shading of all external areas: it lets the heat pass upwards and keeps the environment under the roof ventilated. Again, thanks to its dense mesh, it also allows 40% of the water that will fall onto the cover to flow out!
THE CHARACTERISTICS OF THE MAANTA WATERPROOF SAILS
The fabric of our Easy Shade sails is a 160 gsm polyester with double polyurethane coating and perimeter reinforcement tape.

The double polyurethane covering is one of the advantages of Maanta sails compared to competing ones as it ensures greater waterproofness. 
The fabric of the Saill and Solaria sails is instead the 270 gsm Purishade®. The innovative coating allows it to be both waterproof (20 inches water column - which identifies that it can withstand the pressure of 20 inches of water before starting to drip!) and breathable (breathability 700 g/sqm/24h ).
In addition, polypropylene is famous both for being completely anti-mold and for having excellent mechanical properties such as resistance to tension and abrasion, things that are really necessary for awnings. Finally, the main thing: polypropylene is the fabric with the lowest index (37) of environmental impact in the eco-compatibility ranking drawn up by the HIGG association, which takes into account the impact on various factors including global warming, eutrophication, use of water in the production process, depletion of fossil resources, CO2 emissions, and use of chemicals.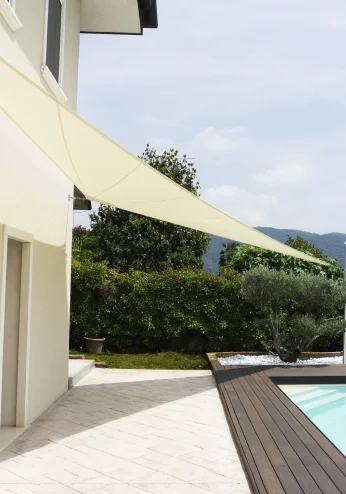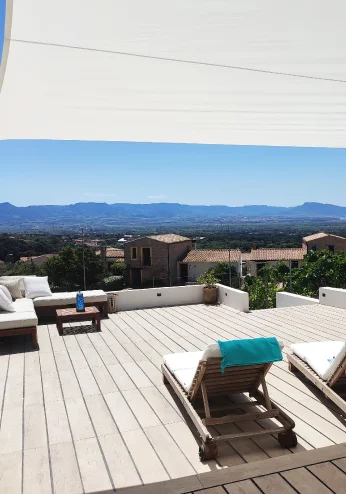 ADVANTAGES OF WATERPROOF FABRICS
They are both very waterproof (water column resistant 2 inches / 20 inches). They protect the shaded area both from rain but also from leaves, bird dirt and more.
Disadvantages: waterproof polyester retains heat and creates a 'hood' effect, it is more subject to wear, tear and wind stress.
Attention: To ensure very high wind resistance and we recommend that you tension the fabric correctly. The well-stretched fabric 'cuts' the wind better and makes the rain flow better.
We recommend tilting the sail in the correct way (at least 25% slope), otherwise central pockets can form which damage the sail and cause large quantities of water to accumulate.
The combination of tension and tilt is really essential in waterproof sails. If only one of these two elements is missing, we can be sure that the fabric will do its function, that is, it will retain water but in the center of the sail, which is very dangerous! Rather than deficit, we abound, both with tension and with inclination, with waterproof fabric it is really important!
THE CHARACTERISTICS OF BREATHABLE FABRIC
Our Easy Shade breathable sails are made of 180 gsm VIRGIN polyethylene (we specify this because using a non-recycled material there is much more quality of the filament and resistance over time). The shade sails can be washed with a pressure washer.
The breathable sails made in Italy Saill and Solaria instead use the very robust Meshnet® fabric, weighing 320 gsm. This accentuates the advantages of HDPE fabric and allows for better summer freshness thanks to the heat shield that a fabric of that thickness is able to develop.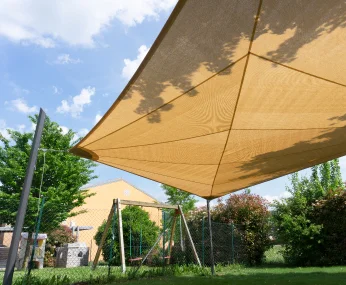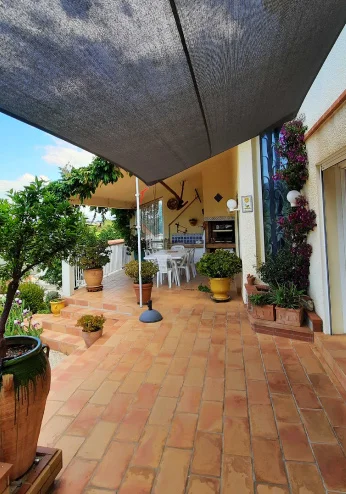 ADVANTAGES OF THE BREATHABLE FABRIC:
Incredibly resistant to gusts of wind (lets it through)
Lets the hot air vent 'naturally' upwards (and does not have the 'hood' effect of a raincoat)
Anti-mold, anti-tear, more resistant over time and to traction.
Does not accumulate any bags, neither of air nor of water of course.
Attention: even the breathable fabric must be tensioned correctly as this will help us to make it more stable against the wind and will also help some rainwater to slide towards the corners without piercing. The 180 gsm HDPE will allow 20% of rainwater to drain if properly tensioned and tilted, while with the 320 gsm HDPE it will reach 40%.
All Maanta sails and anchoring accessories are particularly robust and specially designed for above average tensions!
IN CASE OF RAIN: WHICH SHADE SAIL IS THE MOST WATERPROOF?
he waterproof sails are treated with different coatings that guarantee waterproofing . To achieve optimal performance, we recommend that you follow the assembly instructions and tension and tilt the sail correctly.
The breathable fabric is not waterproof . If properly tensioned it filters approx. 20% of the water (40% in the case of 320 gsm ). The fabric, however, is very resistant over time and easily withstands exposure to atmospheric agents. The shade sails have an anti-mold treatment and dry quickly after summer showers.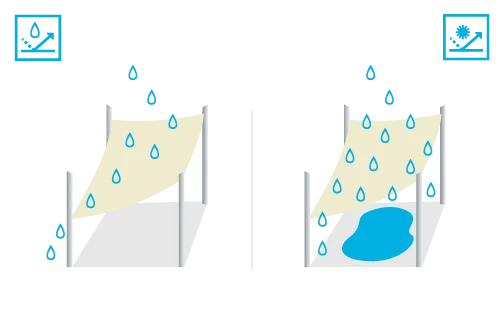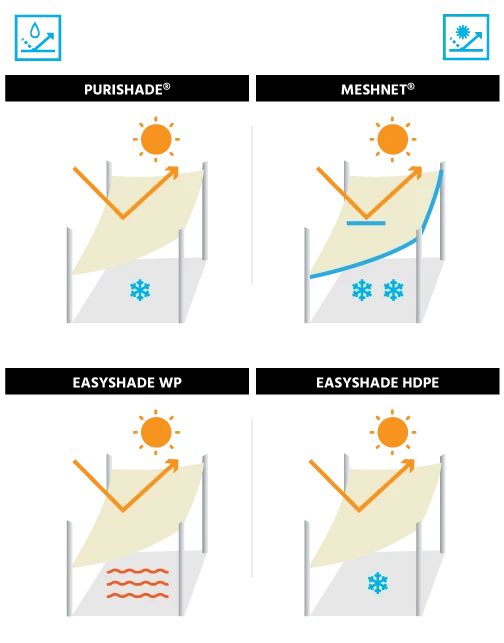 IN SCORCHING HEAT - HEAT PROTECTION
On the hottest days of the year it is important to protect yourself from the sun.
The polyester fabric is not breathable and therefore does not allow hot air to rise naturally.
The Purishade® polypropylene waterproof fabric is instead breathable and is able to ensure summer freshness. Our tests indicate 37% heat reduction between the top and bottom of the fabric.
The 180 gsm HDPE shading fabric allows the hot air to pass 'naturally' upwards. This creates a cool and shady environment. 
Finally, the 320 gsm HDPE shading fabric as well as allowing hot air to pass through is also very robust and this allows it to create a better heat shield than to the 180 gsm version.
WIND RESISTANCE
Maanta scrupulously chooses its products in order to provide the consumer with safety and strength. However, the characteristics of the two fabrics are very different.
Thanks to its open 'knit' texture, the shade fabric is more wind resistant than waterproof fabric.
The waterproof fabric traps the wind and tends to transmit its strength to the anchors.
If tensioned and tilted correctly, a waterproof sail withstands Beaufort scale winds of 18-24 mph in the case of Easy Shade, 25-31 mph in the case of Saill or 32-38 mph in the case of by Solaria.
The breathable HDPE fabric , on the other hand, lets the wind pass through the mesh of the HDPE/Meshnet® fabric. In this way, the force of the wind is not transmitted to the fabric or to the anchors.
If tensioned and tilted correctly, a (breathable) shade sail can withstand Scala Beaufort winds of 32-38 mph, reaching up to 34-40 mph in the case of Solaria.
We therefore recommend that you consider purchasing a breathable shade sail if the place of use is particularly windy.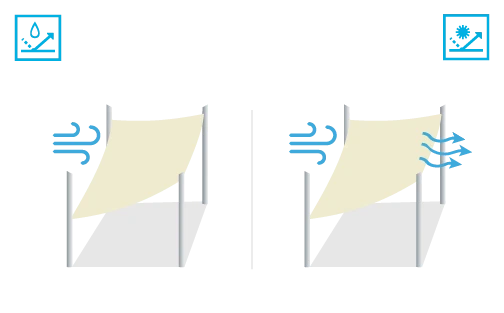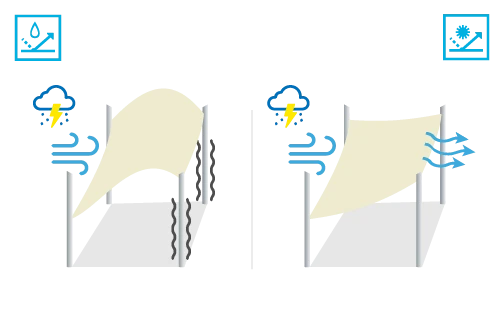 IN CASE OF STORM AND HAIL
Many shade sail owners ask themselves: 'Should I take the sail apart in case of a storm or hail?'. The answer depends above all on the choice of fabric and the type of installation.
The waterproof fabric even if properly tensioned, it collects all the force of the hailstones and transmits it to the anchors. The waterproof fabric can tear in very strong gusts of wind and under the force of hail. We therefore recommend that you remove the waterproof sails in the event of a storm/hail.
The shading fabric on the other hand, tends to absorb hail stresses much better. Its fabric is slightly elastic, especially when stretched, and the hailstones can bounce without damaging it. Gusts of wind are less of a problem for the shade fabric. Air passes through the fabric and does not transmit force to the seams and anchors. The shading sails in HDPE/Meshnet® fabric must not be dismantled in case of storm and hail, as long as they have been correctly tensioned and inclined.
Maanta shade sails - Waterproof fabrics
Easy shade 2.0
Saill
Solaria
Type of fabric
Polyester
Purishade®
polypropylene (Olefin)
Purishade®
polypropylene (Olefin)
Fabric weight
160 gsm
270 gsm
270 gsm
Eco-compatibility

3/5

5/5

5/5

Sealed seams
Yes
Yes
Yes
Max area
320 ft²
387 ft²
452 ft²
Persistence of color

3/5

5/5

5/5

Wind resistance
18-24 mph
25-31 mph
32-38 mph
Resistance
to tear / hail

3/5

4/5

4/5

Waterproof

5/5

5/5

5/5

Water runoff
90%
100%
100%
Condensation risk

3/5

-
-
Water column
2 inches
20 inches
20 inches
Perceived freshness

2/5

4/5

4/5

Resistance to mold

3/5

5/5

5/5

Abrasion resistance

3/5

5/5

5/5

Resistance to tension

3/5

4/5

5/5

Uniformity tension

2/5

4/5

5/5

Fabric cut
In bands
In bands
Radial
Years warranty ***
2
3
4
Cost per ft²
approx 0.5$ / ft²
approx 4$ / ft²
approx 5$ / ft²
Custom sizes
No
Yes (+1$/ft²)
Yes (+1$/ft²)
 
Discover EasyShade
Discover Saill
Discover Solaria
* with correct application of tension 100 lbs for each corner
** with a minimum inclination of 3 ft.
*** the warranty is recognized for products installed as per our guides and only on manufacturing defects
Maanta shade sails - Breathable fabrics
Easy shade
Saill
Solaria
Type of fabric
Virgin HDPE polyethylene
Meshnet®
Meshnet®
Fabric weight
180 gsm
320 gsm
320 gsm
Eco-compatibility

5/5

3/5

3/5

Max area
320 ft²
387 ft²
452 ft²
Persistence of color

5/5

5/5

5/5

Wind resistance*
25-31 mph
32-38 mph
34-40 mph
Resistance
to tear / hail

4/5

5/5

5/5

Waterproof

1/5

2/5

2/5

Water runoff
20%
40%
40%
Condensation risk
-
-
-
Water column
0
0
0
Perceived freshness

4/5

5/5

5/5

Resistance to mold

5/5

5/5

5/5

Abrasion resistance

4/5

5/5

5/5

Resistance to tension

4/5

5/5

5/5

Uniformity tension

2/5

4/5

5/5

Fabric cut
In bands
In bands
Radial cut
Years warranty ***
2
3
4
Cost per ft²
approx 0.4 $ / ft²
approx 3.2 $ / ft²
approx 4.3 $ / ft²
Custom sizes available
No
Yes (+ 1 $ / ft²)
Yes (+ 1 $ / ft²)
 
Discover EasyShade
Discover Saill
Discover Solaria
* with correct application of tension 100 lbs for each corner
** with a minimum inclination of 3 ft
*** the guarantee is recognized for products installed as per our guides and only on manufacturing defects