Shop reviews

Verified reviews

Products reviewed on the Maanta website
Maanta is committed to providing the best service in the market for its customers, continuing to improve its services thanks in part to the input of all customers: their opinion is very important to us because it always provides us with a cue not to stop and provide an increasingly satisfying experience.
Happy Customer
I was tired of my wood 4x4 bending so after a lot of research I decided on the Alu-Simple Poles. Not only do they look great, but even in heavy winds they hardly move. Well constructed and easy to put together. I have had lots of compliments from friends. Great job Maanta.
Sep 13 2023
Reviewed product:

Alu-SimplE
Hurricane proof
We replaced our "carbon fiber" deck poles with the Alu-SimpIE poles two weeks before hurricane Idalia hit us. We were thrilled to come home to see that our poles were standing with NO issues. These are very high quality and we will be purchasing more products from MAANTA in the future.
Sep 10 2023
Reviewed product:

Alu-SimplE
Excellent shade screen
I ordered this product for my daughter's back yard. They shade is extremely high quality, beautiful and effective. They are enjoying their yard much more now that they have shade!!!
Sep 06 2023
Reviewed product:

SolariA breathable
sturdy and great design
This post and a custom solaria breathable shade sail has created a whole new favorite "room" for the property. We did the install over a couple weekends (needed to pour a concrete footing). Maanta's hardware is the real deal. Rugged stainless steel and perfect sizing resulting from the configurator on Maanta's website took the guesswork out of the project. The 3x pulleys are easy once you figure the rope routing - and they create perfect tension. This system was not cheap but it's worth every penny and was thousands less than the local tent and awning contractor. Fast shipping - even on the custom sail. You can do this!
Aug 21 2023
Reviewed product:

Alu-SimplE
Exceptional Product
I bought two of the 25° angle sail poles. Arrived well packaged and unharmed. The poles are very sturdy. Used to make 16'x16' shade for car park. I could tension the sail tightly and used different attachment points to provide a drainage path for rain. Overall, very pleased with the result and highly recommended.
Aug 19 2023
Reviewed product:

Ulisse
Sail shade poles
We purchased these poles after purchasing a pair from Amazon which failed after a week or so. We bought these in hopes they would be a quality product and they definitely are! They have held up wonderfully and look great on our patio.
Aug 11 2023
Reviewed product:

Ulisse
Terrific product !
This is a terrific product. Easy to install, does the job well and looks great. I have two of them installed at my home.
Jul 25 2023
Reviewed product:

Ulisse
Sunshade Poles
We used the poles for a massive 25' sunshade and the are attractive, strong and easy to install.
Jul 12 2023
Reviewed product:

Ulisse
I am so happy I chose Maanta!
I love Italian food and I now love Italian Sail Shades!! Everything about my purchase and installation has been so good. The item recieved came exactly to specifications. Quality and control is spot on. The price was really sweet getting it on sale with a discount, sealed the deal. The shipping... I must say, I thought it was questionable that Maanta could get it done and shipped overseas to me meeting the date they estimated. Well they did it, got it to me right on time, I'm amazed. My installtion went flawlessly. I love the product, the detail put into it, workmanship, everthing about it exceeded my expectations. I can't wait to figure out where to put another shade up and order another from Maanta. Its great stuff and better than any of the USA sail manufactures I was reviewing before I made my purchase decission.
May 12 2023
Reviewed product:

Saill breathable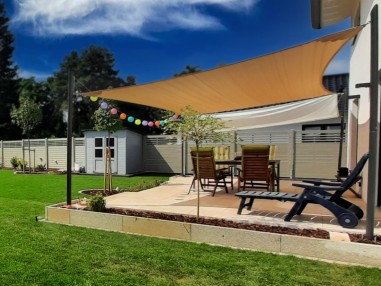 It's just beautiful to look at!
A bit sceptical I opted for Maanta and not the competition because of the possibility to adjust the height as well as the tilt. I must say that the product is really solid, plus it has a unique design.
Oct 31 2022
Reviewed product:

Maistra