Shade sails are ideal for covering car parks.
They provide shelter from hail and keep cars cool.
In addition, unlike a system of parasols or a pergola, a sun sail system can guarantee uninterrupted coolness thanks to the variable inclination of the sail.
---
How do I put together my kit?
In order to be able to use a part of your garden as a parking area where you can leave one or more cars, you need to:
Understand which points can be least cumbersome nel proprio terreno. in your property. These will be the points where the poles with a ground base should be placed and where a concrete plinth of at least 60cm should be placed.
Define how many parking spaces you want to protect from sun and hail. In this way you decide on the number of poles, which will vary depending on the quantity and size of the sails you install. The size of the area to be covered as well as aesthetic taste will usually influence this choice. If your area to be covered is larger than 42 square metres, you will need to opt for two or more sails.
Once you have an idea of what the final structure should look like, it is essential to determine whether the sail should be custom-made or whether our variety of standard sizes already offers something to suit you. The next step is definitely the choice of fabric.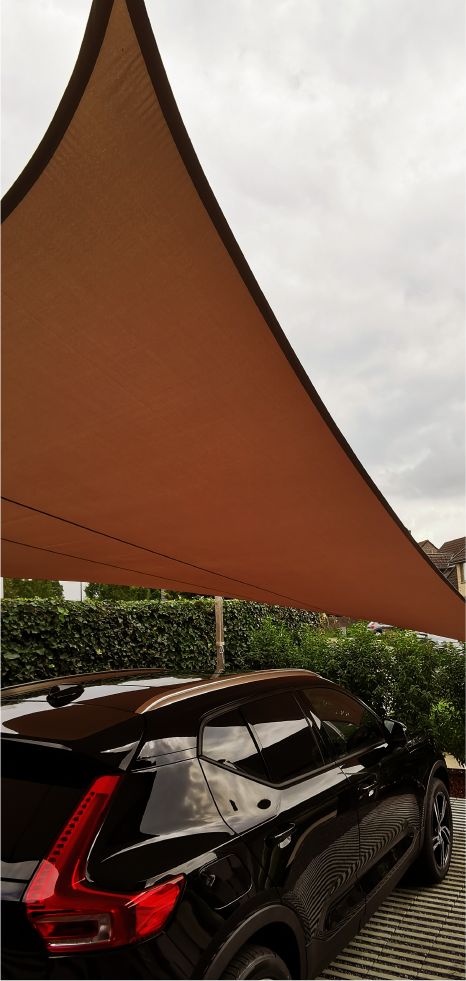 Are there more or less suitable floors?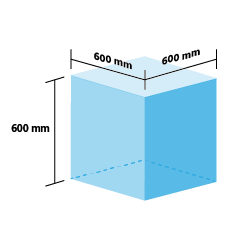 A Maanta pole should be placed on a concrete surface at least 15cm thick. If a coated and/or tiled surface is available, we recommend anchoring to the underlying concrete if it is at least 15cm thick. The area around the pole can then be re-tiled.
If you do not have a tiled surface of at least 15cm, we recommend installing and placing a concrete plinth of at least 60x60x60cm per pole on the ground.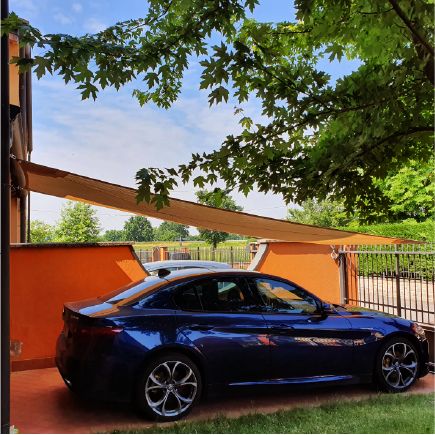 Practical guides to the installation: Option SAVER - WALL-MOUNTED KIT
Ideal for parking right next to your house
2 wall-mounted kit
2 poles Ulisse
1 sail EasyShade HDPE standard sizes to be chosen from those available on the site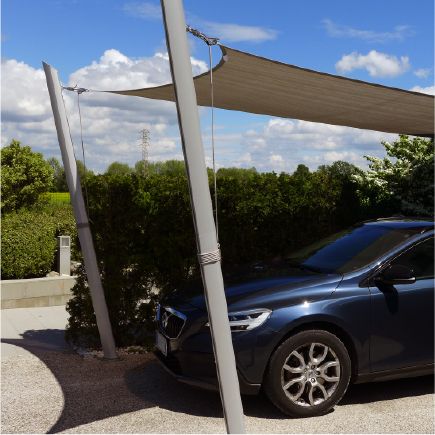 option MULTIPARKING PRESTIGE - KIT "FREESTANDING"
Ideal for several cars and to ensure total waterproofness to the structure
more than 4 poles Alu-simple (multiples of 2)
2 or more sails "Made in italy" in fabric PURISHADE®
Composition:
1 • What fabric should I choose?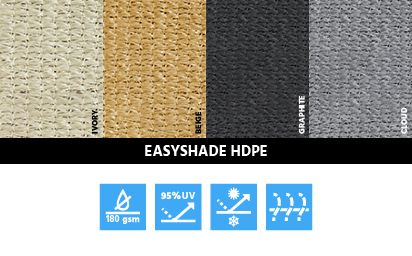 Option SAVER
The breathable HDPE fabric is definitely the best because:
• It is completely TEAR-PROOF so in the event of hail, you will not have any problems. The waterproof fabric, on the other hand, could tear.
• In the event of strong wind (such as hail) its natural mesh allows air to pass through. Waterproof fabric, on the other hand, could create dangerous air pockets that will stress the fixings and could tear the fabric.
• In very hot weather HDPE fabric will allow the hot air to flow upwards, whereas waterproof fabric will tend to 'hood' the air.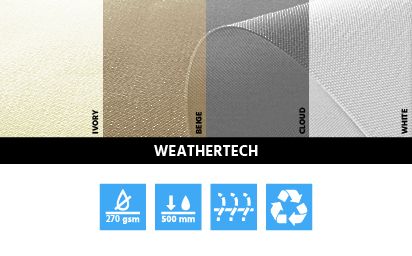 option MULTIPARKING PRESTIGE
We recommend our premium fabric PURISHADE® by Maanta.
• It is the only fabric on the market that not only guarantees impermeability even during many hours of rain, but also ensures proper breathability and micro-circulation of air. In this way, the carport can always remain well ventilated even on the hottest days. In addition, the breathability of the fabric reduces wind, making it very wind-resistant up to 62 km/h.
• PURISHADE® protects the shaded area from rain as well as from leaves, bird dirt and more.
• Polypropylene, also known as Olefin, demonstrates excellent mechanical properties such as abrasion resistance.
2 • How do I measure correctly?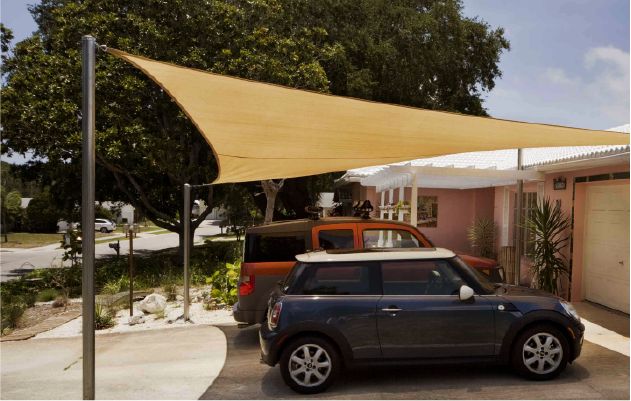 Option SAVER
• go to "Shade Sails" > "Breathable shade sails"
• select a size that will best cover your car and above all be sufficiently smaller than the space you have chosen for the anchor points. Each side should be at least 70 cm to one metre smaller than the distance between the poles and/or wall anchors.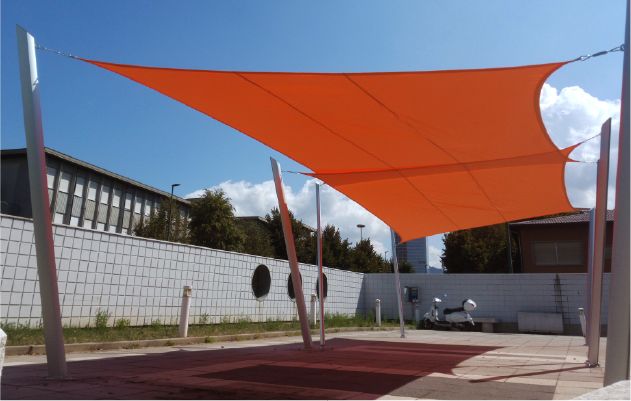 option MULTIPARKING PRESTIGE
• choose two models of "Made in Italy" sails: Saill or Solaria. In the first model the seams are horizontal, while in the second model the seams are radial.
• PURISHADE® fabric.
• standard or custom sizes to create the perfect sail for your car park.
Configura la tua vela impermeabile
3 • Who will install the sail?
In all cases, the customer is responsible for the installation. However, the customer will not be left alone in this task.
We are always available to help remotely by telephone or e-mail.
In addition, we have published guides in video format that follow you step by step and explain how an ad hoc installation should take place.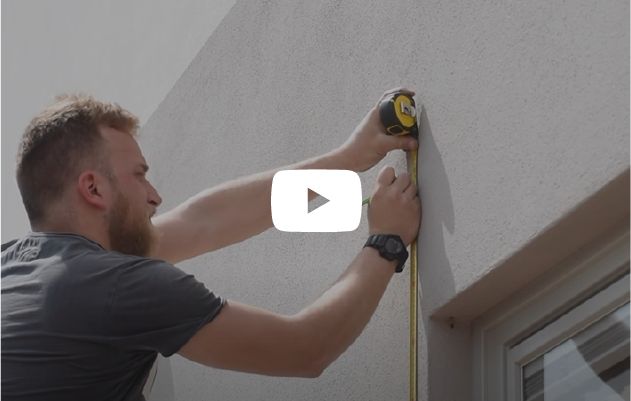 What advantages does a sail cover give me over other installations?
A carport cover with a sail system can be less bulky thanks to the possibility of anchoring one or more corners of the sail to existing structures.
In addition, by purchasing our ALU SIMPLE poles for shading sails, it will be easy to vary the heights of all the corners that are anchored to the poles. In this way we can easily calculate the path of the sun and keep the car ALWAYS SHIELDED from sunlight.
In addition, considering the heights of the cars that are usually parked underneath, our hail protection car cover will be much more effective because we can keep the sheet much closer to the roof of the cars. Our system really does manage to be something innovative in terms of functionality and style compared to traditional carports.
Finally, a further advantage is surely the fact that it is completely free-standing, so there is no obstacle to opening the car doors.