Do you have a terrace and want to create a shade cover?
Then consider the sails for terraces , a simple, affordable but sober and functional solution.
Stylish decoration without sacrificing comfort
---
Shade sails for terraces, ask Maanta the specialist in shading sails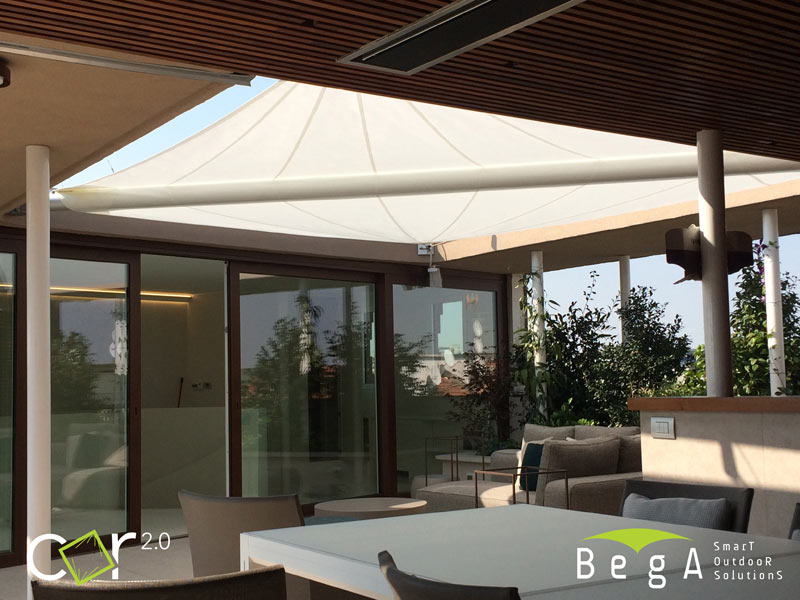 Covering a terrace is not an easy choice because you need to combine several requirements such as practicality, style, functionality, price.
Shading sails for terraces very often combine all 3 of these characteristics.
They are practical: quick and easy to both install and remove.

They decorate with style: they offer essential lines, but at the same time they offer modernity, movement and the possibility to choose between different sizes, fabrics and colors.
They are very functional: thanks above all to specific anchoring kits developed by us, it will be possible to incline every single angle of coverage of the sails for terraces, ensuring a protection from sun and rain always effective even with changing conditions such as the shift of the sun during the day or the months.

They are cheap: starting from 30 euros you can buy a sail and 9 euros an anchor. The poles for shade sails including the possibility of raising and lowering each corner and the ground plate cost just over 150 euros.
In the category of shading sails for terraces there are also roll-up and motorized versions.  Thanks to the possibility of hooking both to the wall and to the ground, this type of cover can be easily integrated into any type of terrace. It is motorized and equipped with a wind sensor: when the wind is excessive, the cover will retract wrapping itself around the central boma. Our licensed version, thanks to its circuit, will keep the cover fabric constantly taut and this will give a precise drainage of rainwater as well as a better resistance to wind. All this means greater safety and peace of mind. When we want to enjoy our open sky, all we have to do is wrap the fabric around it and we're back to enjoying the starry sky. Motorized by Somfy and made to measure, CoR 2.0 is the best performing motorized sail awning on the market, capable of covering up to 70 square meters.
The largest selection of shade sails for terraces only on Maanta!