Variable height

Extreme rigidity and robustness

Multi sail

Full optional

Aluminum exclusive design
Alu-SimplE
Aluminum Pole For Shade Sails , adjustable variable height
Alu-Simple aluminum shade pole is the first technical pole ever developed for shade sails.
Maanta has been selling it exclusively since 2016 - Powder coated aluminum - Variable sails height - Accessories included.
Alu-SimplE: the kit with adjustable variable height pole for shade sails contains:

1 adjustable aluminum pole with a height of 114 inches (9.5 feet), dimensions 4.8x2.7 inches and thickness 0.1 inch

1 ground plate to be anchored by dowels to be chosen according to the ground

1 Muscle x3 Kit for tensioning and fixing 1 sail corner

1 slider with eyelet in Zinc plated steel with 'Easy Variable Height'

Accessories worth already included


Robust steel base plate with a thickness of 0.4 inches (or rotating wall clamps)


Muscle x3 kit for fastening and tensioning made of stainless steel, rope color "silver"

Small parts and accessories for assembly (except threaded rods)
Notice: Our products are designed for residential use. Please read our safety and warranty information carefully
Important: For sails with sizes over 350 square feet we recommend the use of the rear bracing system.

For assembly we recommend our threaded rods M12 x 13 cm and the chemical anchor M-Plus (not included).
Alu-Simple: This variable height shade pole combines design and functionality.

The profile of this shade sail pole has been created to perfectly match the elegant lines drawn by the sun sails. Despite this, functionality was the real engine in product development: the idea was immediately to be able to attach more sails to the front and more sails (or accessories) to the rear.
Today it will be enough to insert two cursors in the lanes with which it is equipped to reach the goal. The cursor will then tighten and we can firmly 'fix' the sails at the desired height.
Here, in this way, we can effectively protect ourselves from the low sun on the horizon, we can create a steep slope to drain the water, we can be free to orient the sail as much as we like or as it is useful to us.

The sturdy aluminum profile was created to support all this: both the internal and external design, the thicknesses and the material have created a pole solely equipped to do all this. This sturdiness has also been increased to have an anchorage that is not absolutely flexible: poles that flex in fact decrease the tension of the fabric and therefore affect both the wind resistance and the drainage of the rainwater, putting us at risk of forming pockets of central water.

Another big advantage of aluminum is that it is completely resistant to salt and rust: it will therefore be a durable product. Alu-Simple is supplied complete with accessories (except the dowels) that are used to attach the pole to the sail, bases or wall collars are inside the package and you don't need to worry about anything! All these features make Alu-Simple the best pole for shading sails on the market!
Discover our
YouTube channel!
With installation guides and information Click here!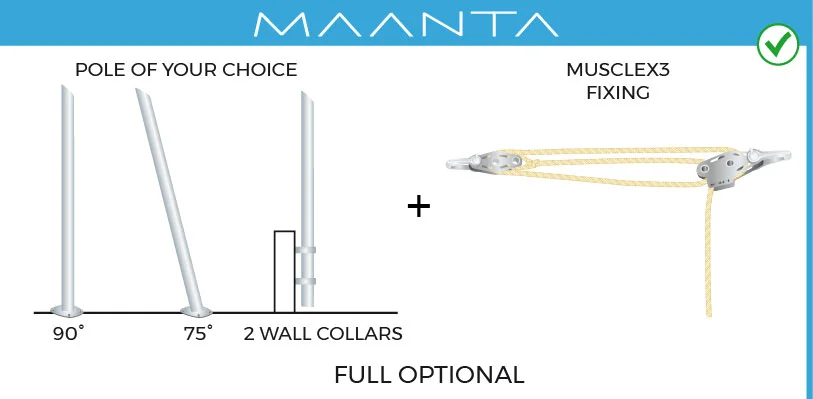 THE 3 VERSIONS OF ALU-SIMPLE
The pole is available with 75° or 90° base plate.
Or with 90° wall collars, for the vertical fixing on walls.

The version with 90° or 75° base plates include:
1 adjustable aluminum pole with a height of 114 inches inches (9.5 feet)
1 robust base steel plate (90° or 75°) for anchoring on the ground
1 slider with galvanized steel eyelet variable height 'Easy Variable Height'
1 "Muscle x3" Kit for tensioning and fixing 1 sail edge
The wall collar version includes:
1 adjustable aluminum pole with a height of 114 inches inches (9.5 feet).
2 wall mounting steel collars
1 slider with galvanized steel eyelet variable height 'Easy Variable Height'
1 "Muscle x3" Kit for tensioning and fixing 1 sail edge
Advantages

Functionality
Possibility of multiple and independent anchoring points. Front and rear lanes are able to accommodate also accessories such as tie rods.

---

Design
The slender but sinuous profile goes perfectly with shade sails

---

Robustness
The incredible flexural strength makes it ideal for keeping shade sails perfectly taut, essential for ensuring resistance to wind and water runoff.

---

Installation
Just follow the guides, Alu-SimplE will be very simple to install. It is already equipped with Muscle x3, the easy-to-use sail anchoring system.

Features and Dimensions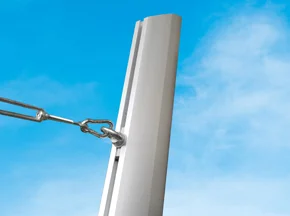 Thanks to the lanes it will be possible to raise and lower one or more sails dynamically, always remaining protected from the sun.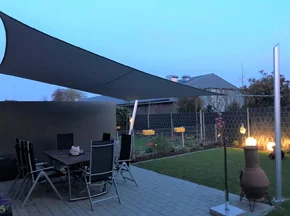 Anodized aluminum ensures great flexural strength. It is completely resistant to rust and salt.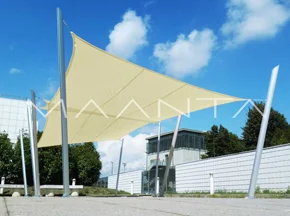 The design was specifically designed to integrate perfectly with the lines drawn by the shadie sails. It is slender, functional, sinuous.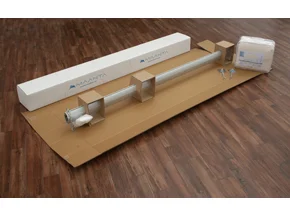 The kit is offered full-optional and already includes the appropriate accessories to attach the sail but also the ground base or the wall collars.
VARIABLE HEIGHT
This functionality is particularly important because thanks to the differences in height we will have a dynamic design, a perfect water drain and an optimal wind cut.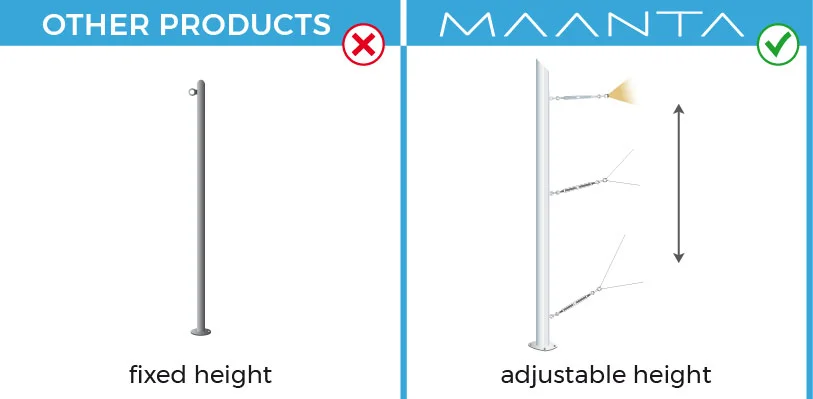 SHADOW UNDER THE SAIL
You will be able to get the shade exactly under the structure by varying the heights of the sail corners.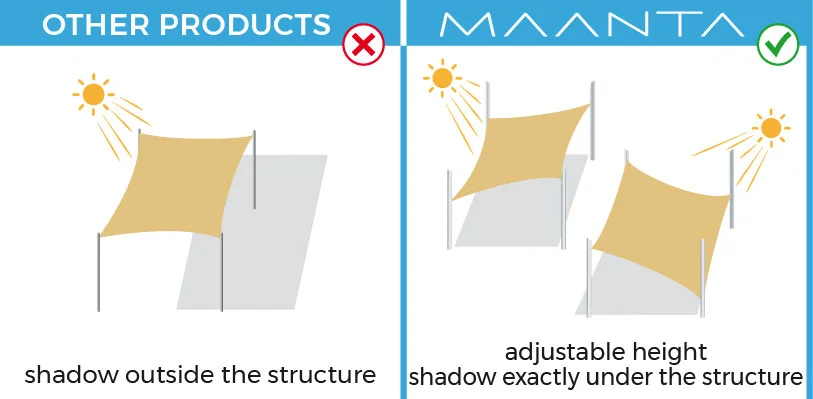 TWO LANES FOR ANCHORS
The double lane also allows you to create complex setups with multiple sails.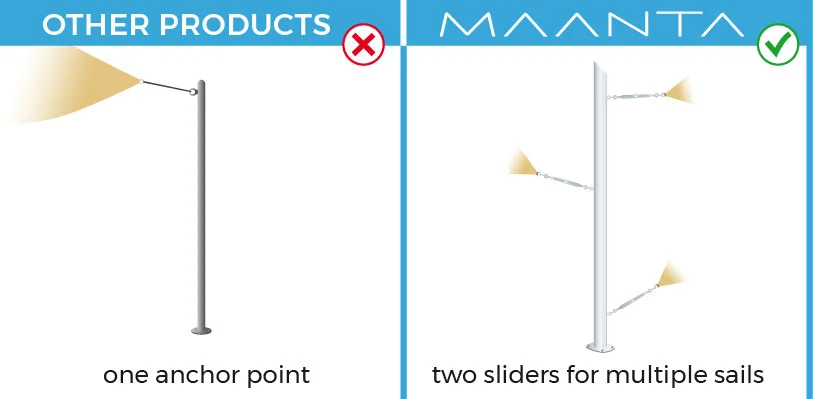 DOUBLE LANE FOR COMPLEX SETUPS WITH MULTIPLE SAILS
Thanks to the possibility of attaching more sails to the front and rear, we can shade large spaces with a single pole.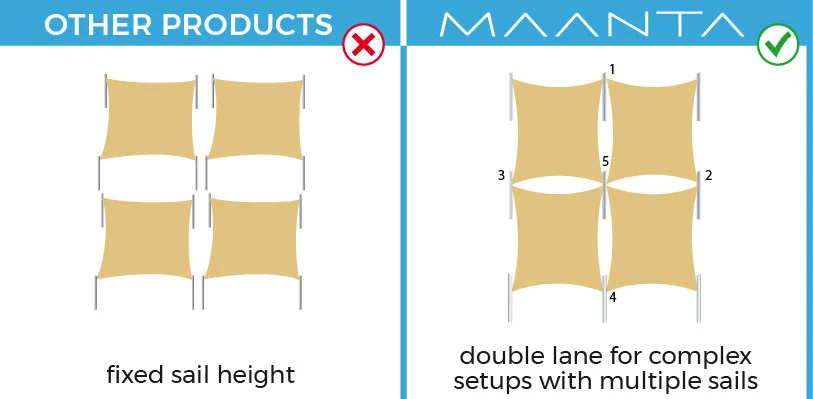 STABILITY UNDER TENSION
The design combined with the type of aluminum chosen, make this pole really rigid. This resistance to bending is extraordinary in order not to lose tension on the sails and not to make him "water bellies".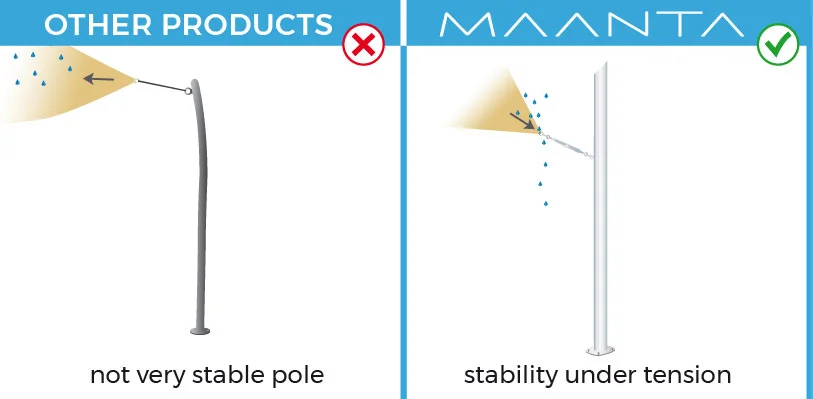 RUST
Aluminum is completely immune to rust, and is therefore suitable for installation even in coastal areas.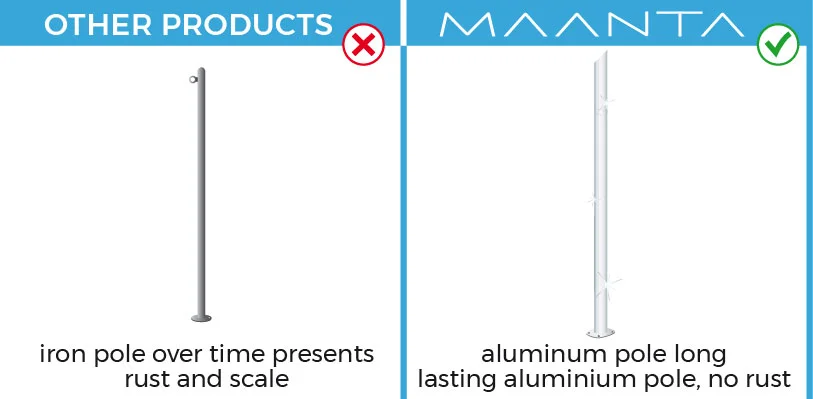 FULL-OPTIONAL
Alu-SimplE contains everything you need for a complete setup: 1 aluminum pole, 1 base or 2 wall-collars, 1 "Muscle x3" Kit for fixing and tensioning of the sail.