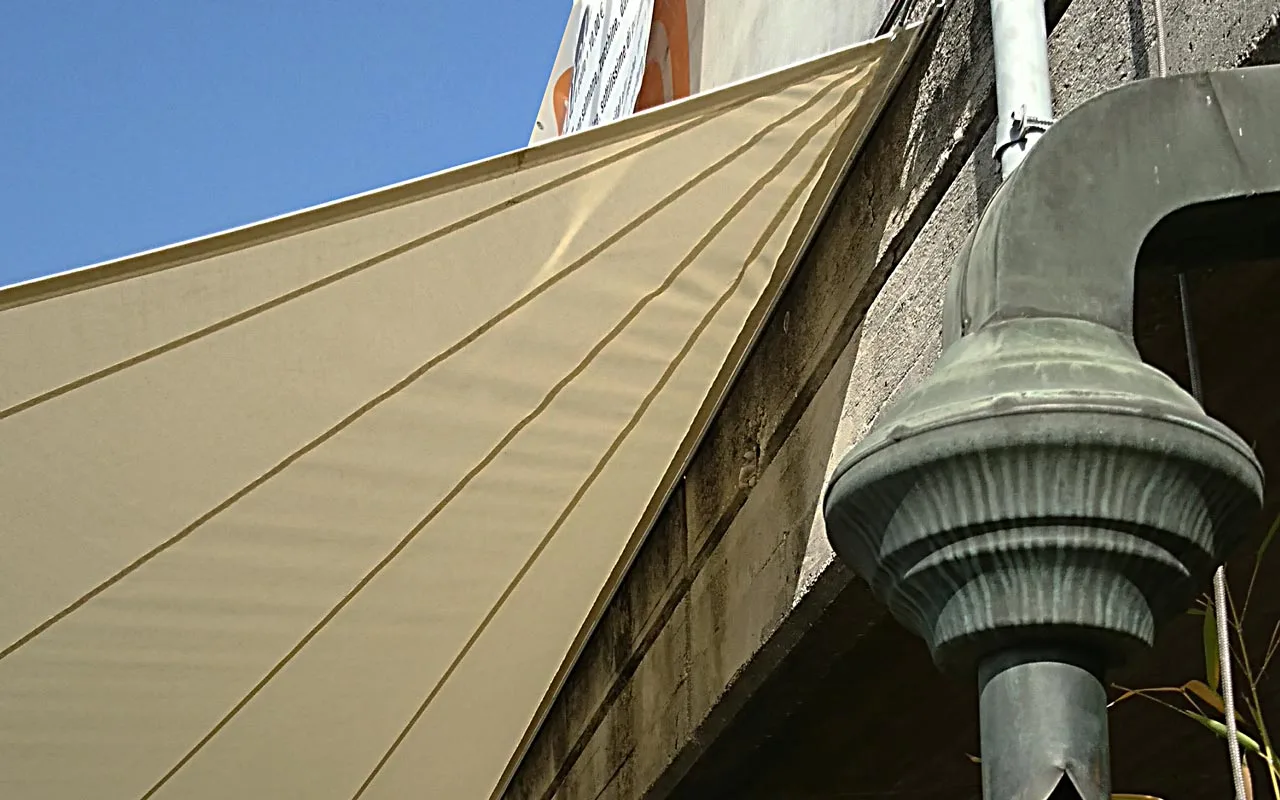 SHADE SAIL WITH WALL PROFILE
A common feature in shade sails is having the concave sides, this gives a major visual impact and a modern appearance.
For a "lean-to" installation on a house wall, it was particularly important to our development team to cover and protect as much area as possible.
This gave birth to the wall profile, i.e. an accessory that can be attached to house walls in combination with the sail and that allows the entire side of a sail to be fixed flush with the wall.
This is how the Maanta wall profile was born.
The advantages are not few, especially in terms of livability; in bad weather the sail does not allow rain to seep between the sail and the wall, providing greater comfort and livability.
THE MAANTA WALL PROFILE
The Maanta wall profile is not a commercially available standard profile, but was specially designed by our research and development team. Compared to the standard profiles, we have made small but essential improvements that make this profile ideal for intensive use with high-performance sun sails .
Its special design allows the side of the shade sail to fit perfectly against the wall. The 7mm aluminum profile is exceptionally robust and enables the shade sail to be evenly and tautly tensioned over the entire surface.
Excellence and performance are two company values that we bring to the making of every product, this is one of the many reasons why we chose an increased and reinforced wall profile, capable of withstanding winds up to 38 mph.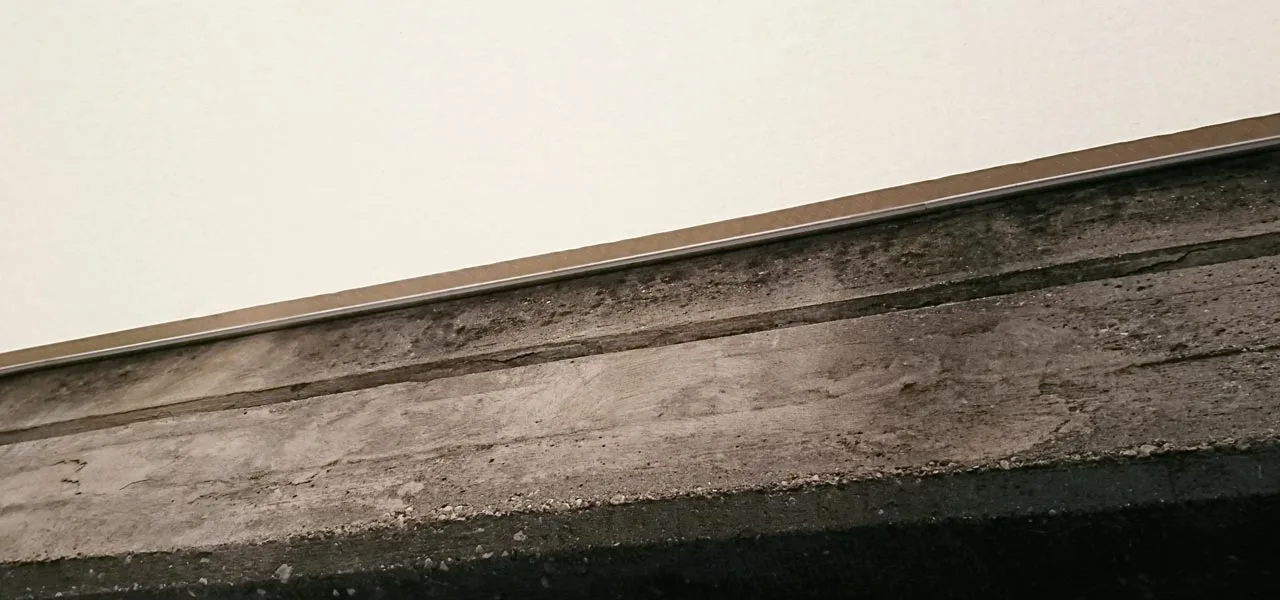 COMPATIBLE MODELS WITH WALL PROFILE
All custom-size Saill and Solaria variants can be made with a wall profile side.
We have chosen to offer wall profile sails only for custom made products. This allows us to offer a product that is perfectly suited to your needs.
EasyShade model sails are not available with a wall profile.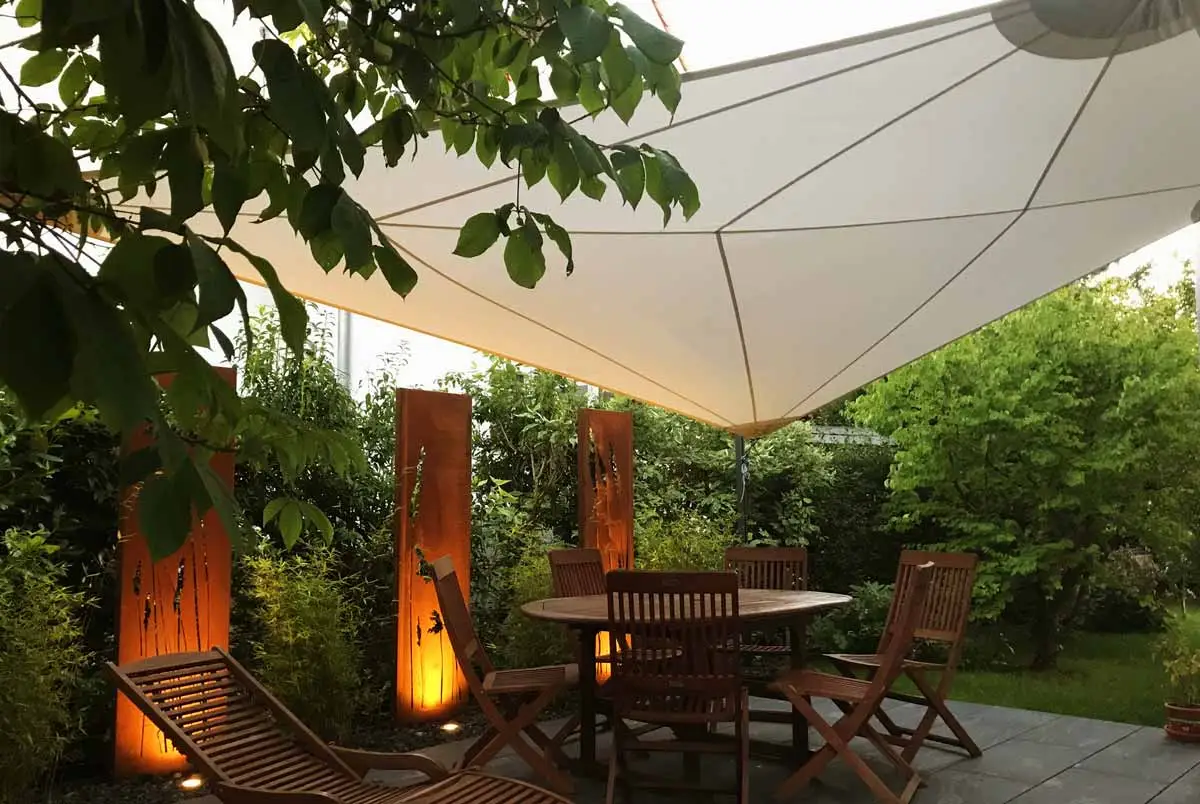 Solaria
This type of construction is routinely used on racing boats for better performance. The many cuts and seams allow better distribution of the force applied on the corners and will give us a better taut sail, which will fight the wind more efficiently, drain water better, and last longer.
Made in Italy
Radial cut allowing greater distribution of tension
Structural rigidity
Endurance over time
Improved wind resistance
Digital and automatic stitching
First-rate components
Multilayer reinforcements
Wind resistance up to 38 mph
Up to 450 square feet
Warranty 4 years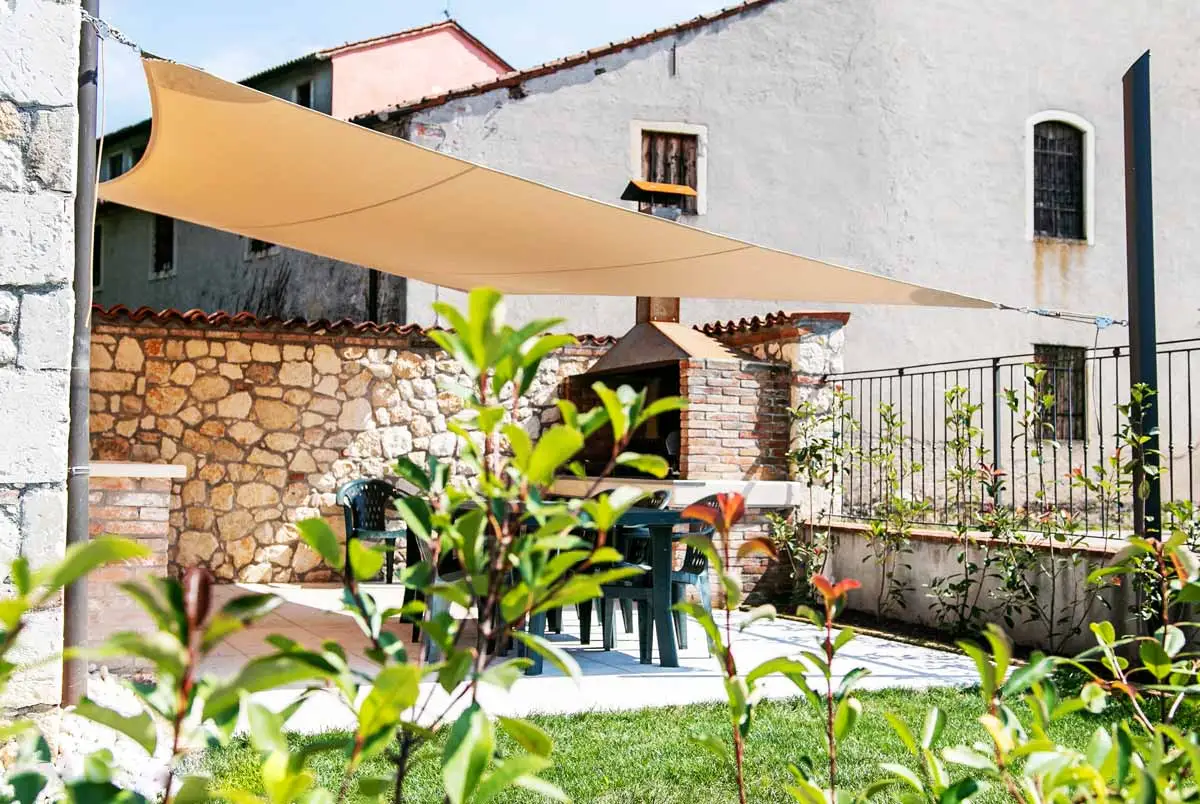 Saill
The same quality and premium materials as Solaria sails with a horizontal cut that provides unsurpassed value for money.
Made in Italy
Banded cross-cut
Digital and automatic stitching
First-rate components
Multilayer reinforcement
Wind resistance up to 31 mph
Up to 387 square feet
Warranty 3 years
HOW TO MEASURE AND CONFIGURE A SHADE SAIL WITH WALL PROFILE
Configuring and making this type of sail is simple; there are two methods.
A) The first is to take measurements between the anchor points. Let's take an example: we have a perimeter wall of a house and we want to anchor one side of the sail to this wall. We take the measurements of this wall by marking it as side AB. Now we take the distance from B to anchor C and from anchor C to anchor A (in case of triangle) or to D in case of square, trapezoid and rectangle.

Enter the configurator at this link, and enter the measurements indicating that these are from the anchor points. The system will automatically calculate the straight wall-side and the length of the other sides between the anchor points. As a second tick, select that you want the version with a straight side.
B) The second method is to directly give the exact dimensions of the shade sail sides and not the anchor points. In this case, you must determine the necessary distance between the corners of the sail and the attachment points yourself. Please consider the distances required for the fastening and tensioning systems.
In either method, it is necessary to remember that AB will always be the straight side to be anchored to the wall.
More information on how to correctly determine the dimensions here.
TECHNICAL SPECIFICATIONS PROFILE
Maanta wall profile
Standard wall profile
Tailor-made
Yes
Yes
Material
Aluminum 1/8" extra strong
Aluminum 1/16" standard
Through-hole
1/4" extra strong
Standard 3/16"
Wall side waterproofing
Yes
exclusive wall side design
No
Lateral tensioning
Yes
via webbing and shackle
No
Wind resistance
up to 38 mph
ND
Configure online, click here
The Maanta Sails Catalog - Waterproof Fabrics
Saill
Solaria
Fabric type
Purishade®
polypropylene (olefin)
Purishade®
polypropylene (olefin)
Eco-friendliness

5/5

5/5

Seams sealed
Yes
Yes
Wind resistance
25-31 mph
32-38 mph
Wall profile
custom size available
custom size available
Resistance to
tear/hail

4/5

4/5

Perceived freshness

4/5

4/5

Mold resistance

5/5

5/5

Abrasion resistance

5/5

5/5

Voltage resistance

4/5

5/5

Fabric cut
horizontal cross-cut
Radial
Warranty years ***
3
4
 
Discover Saill
Discover Solaria
* with correct application of tension 100 lbs for each corner
** with a minimum inclination of 3 ft.
*** the warranty is recognized for products installed as per our guides and only on manufacturing defects