Wind resistance max 51-62

500mm water column

UV protection UPF 50

3 year warranty

Purishade 270g

Digital cut
Maistra
The retractable designer aluminum canopy / umbrella
The innovative Maistra pergola canopy is entirely made in Italy with absolute quality raw materials designed for outdoor use.
The opening and closing maneuvers are incredibly fluid and fast. Delivery in a few days, do-it-yourself assembly in just a few hours.
Maistra will give a stunning look in all situations and places such as gardens, patios, near a swimming pool or to decorate bars and restaurants.
PP Purishade® waterproof cover fabric, very low environmental impact, mold and bacteria resistant, breathable and waterproof
Rotary lock-pin technology that allows both great stability in all situations and roof tilting
Robust and maintenance-free materials
Wind resistance up to 38 mph (depending on the type of installation)
Smooth opening and closing maneuvers
Notice: Our products are designed for residential use. Please read our safety and warranty information carefully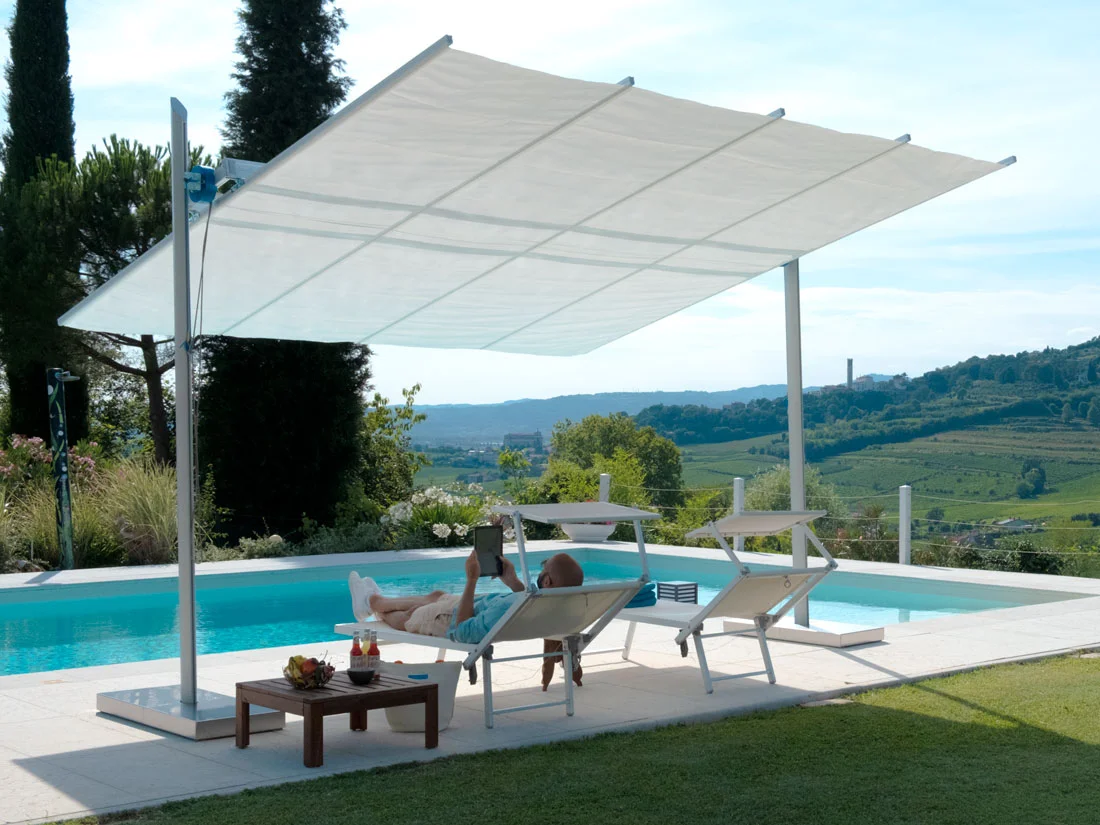 MAISTRA: THE DESIGNER PERGOLA FOR GARDEN AND TERRACE
Maistra is a pergola canopy produced entirely in Italy with top-quality raw materials designed specifically for outdoor use. In fact, the aluminum and polypropylene are maintenance-free and will not present problems of rust and mold. The design combines elements of essentiality, modernity and elegance and will allow to give a wonderful look in all situations and places such as gardens, patios, near a swimming pool or to furnish bars and restaurants.

You can spend time on the patio without having to worry about excessive sun exposure, as Maistra provides pleasant shade. The breathable fabric will promote enough air circulation to allow for a freshness diffculty to be found with other fabrics. The unique Rotary Lock-Pin joint at the same time gives great stability to the roof and also allows it to rotate in a variety of positions, having the ability to optimize the cone of shade and thus effective protection from the sun.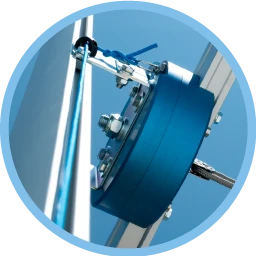 It is one of the secrets of this structure. It is made from a solid piece of aluminum: our CNC machining center hollows out this component. This machining from solid thus gives unparalleled structural strength. The roof attaches to the poles by fitting the profile into this joint, which will "embrace" it, holding it steady and stable in its various positions.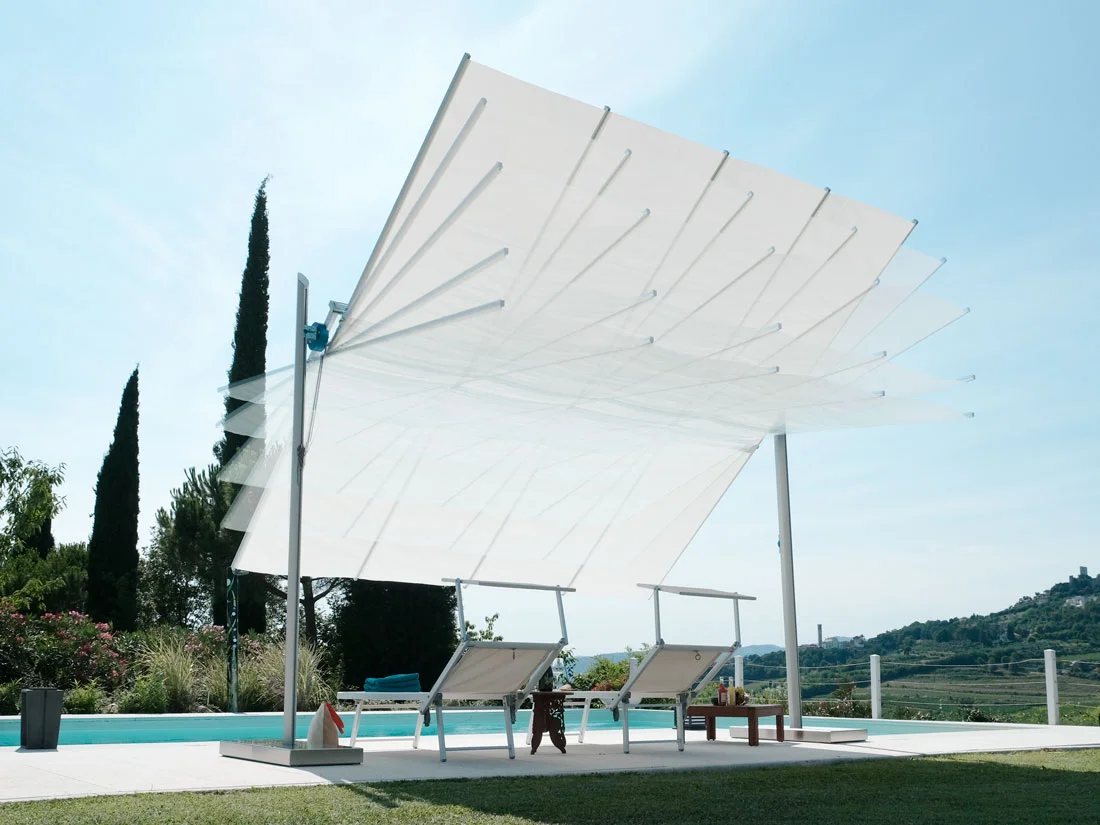 DESIGN AND PRECISION: DEDICATION TO PERFECTIONISM
Our dedication to perfectionism sometimes slows down and lengthens design timelines, but Rome wasn't built in six months either! We want to put not only beautiful products into the market, but also functional and useful ones.
In Maistra, every element is designed and perfected to be performant, without forgetting that Maanta touch of design. Smoothness of joints, carriages and precision in adjustments are prorogative elements of Maistra.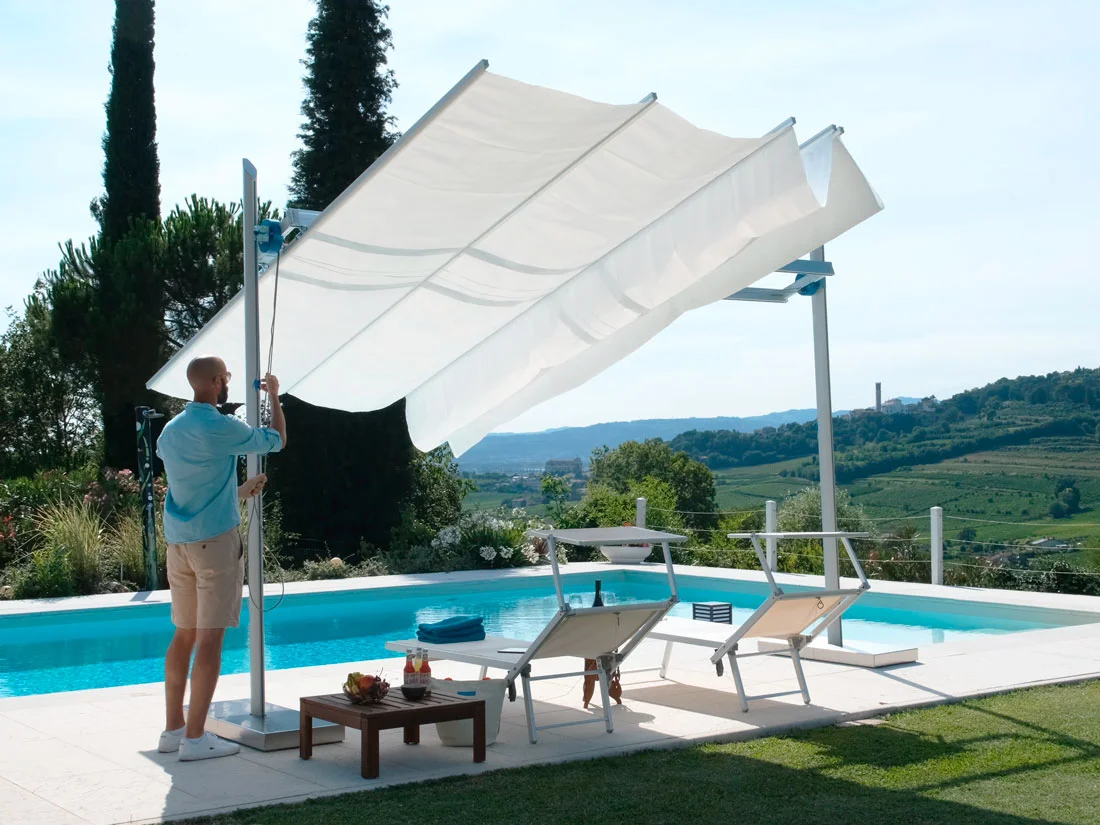 FLUIDITY
Roof opening and closing maneuvers are very smooth thanks to the innovative aluminum rail and optimal load distribution. It will not feel like handling 150-200 square meters of roofing at all!


PURISHADE® ECO-FRIENDLINESS
The
great abrasion resistance of our Purishade®
will allow endless openings/closures without fabric wear problems. The low environmental impact will allow us to be
environmentally friendly
, and the great
breathability
of the fabric will give us
cool shade
while avoiding heat hoods!
BENEFITS
COVER CAN BE OPENED/CLOSED IN SECONDS
Thanks to the internal rail, moving the roof will be very easy in seconds!
DESIGN
The modern, essential and minimalist design fits all situations. It furnishes, tastefully, any outdoor space.
The choice of combining aluminum elements and polypropylene fabric was made to avoid rust and wear problems that would be very troublesome.
ENVIRONMENTAL RESPECT
Both aluminum and polypropylene are easily recyclable and environmentally friendly materials.
EASE OF UNLOADING AND ASSEMBLY
Upon receipt of the goods, there will be no need for forklifts. Assembly will take two hours in two people!
SHELTER FROM DEW, NO-CONDENSATION
Maistra will offer shelter from evening dew while eliminating the annoying problem of rising condensation, thanks to the breathability of the fabric!
ABRASION-RESISTANT AND ANTI-MILDEW
Purishade®
fabric is extremely abrasion resistant and will not have problems with wear and tear due to the many openings and closures. It is also resistant to mildew!
NO CENTRAL POLE
Maistra is designed to have no central pole, thanks to the side support poles, the space in the shade area is free and totally usable.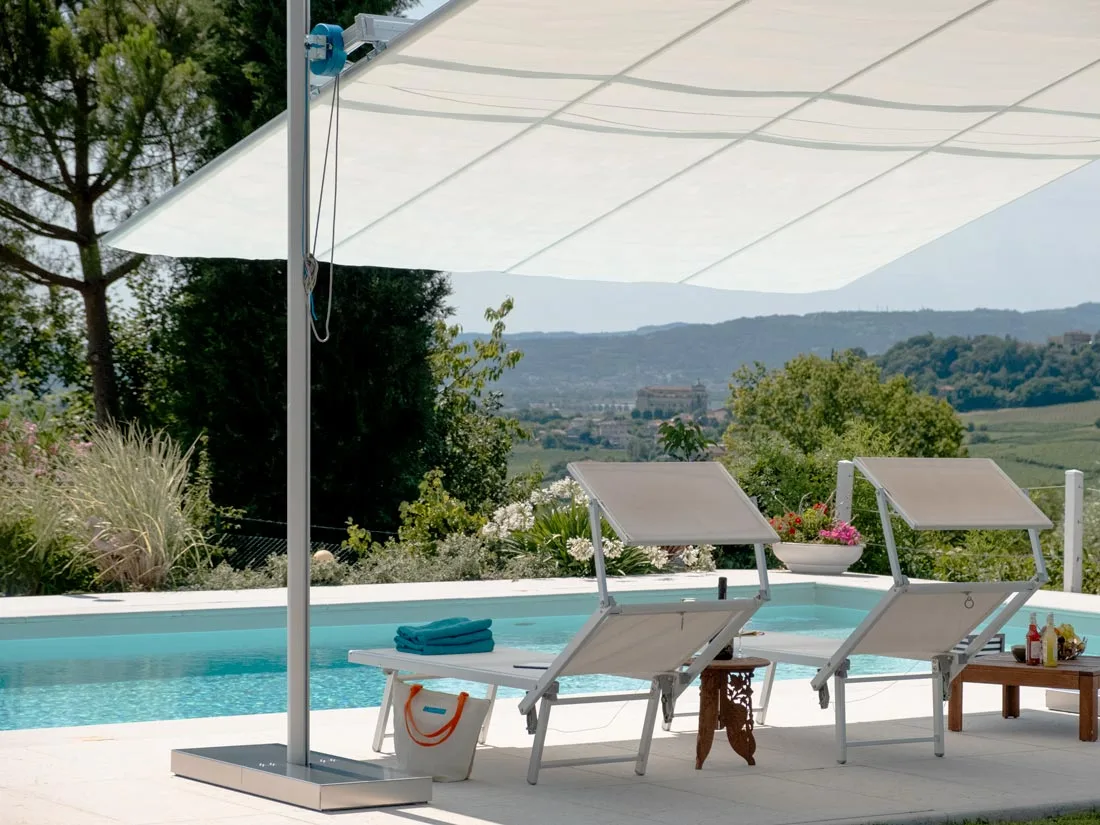 Maistra
Canopy
Pergola
Bioclimatic
Retractable
Yes
No
No
Yes
Adjustable roof height
Yes
No
No
No
Adjustable roof tilt
Yes
No
No
No
Anchorable to the ground
Yes, base plate included 10 mm thickness
Yes, base plate 5 mm thick
Optional base plate
Yes
Optional ballasted base
Yes, with stainless steel lid
No
No
No
Additional module
Optional, lower cost than whole structure
No
No
No
Wind resistance
Fabric type
Purishade®
Polyester dope dyed
ND
Aluminum slats
Fabric weight
270 gsm
250 gsm
ND
ND
Moisture evaporation
ND
ND
Eco-friendly fabric
ND
ND
Color persistence
ND
ND
Perceived freshness
ND
ND
Mold resistance
ND
ND
Abrasion resistance

ND

ND