Waterproof Shade Sails
Maanta waterproof sails are produced in 3 price ranges.
The entry level Easy Shade, UPF30 +, filters 95% of UV rays. It is equipped with sturdy sealed seams and other features that distinguish it from normal economic sails.
Made in Italy Saill, UPF 50+, filters 98% of UV rays. It is created with digital cut and straight cross-cut stitching. Weathertech technical fabric resistant to 500mm water column but at the same time breathable to ensure air circulation.
Solaria made in Italy represents the excellence of sun sails. Digital cut, radial stitching, Weathertech technical fabric: the best on the market.
This waterproof shade sail is entry level and offers the best value for money. Very easy to assemble, its main features are - Cross-cut (bands) - Polyester 160 gr / m2 - Drip-proof seams - 316 stainless steel rings

"Saill", our high quality, waterproof shade sail is made in Italy with our exclusive Weathertech, an innovative and eco-friendly fabric. Its main features are - Cross-cut (bands) - Weathertech 270 gr / sqm - Digital and sealed stitching - Made in Italy

Solaria is the premium shade sail - made in Italy with a radial cut made from Weathertech, an innovative and environmentally friendly sail fabric. Optimal protection against UV rays (UPF50 +), rain, sun, and wind up to 62 km / h. The radial cut, invented in 1983 by sail designer Tom Schnackenberg, introduced a revolution in the manufacture of sails....
They are mainly made with polyester fabrics, with one or more PU (polyurethane) covers. They can be fixed or can be rolled up by means of a furling boom. The fixed waterproof sail awnings reach a size of up to 25/30 square meters while the roller blinds reach up to 70 square meters. However, the costs also change, if a waterproof sail sheet can cost around 5 euros per square meter, a roll-up motorized sail costs 30 times as much.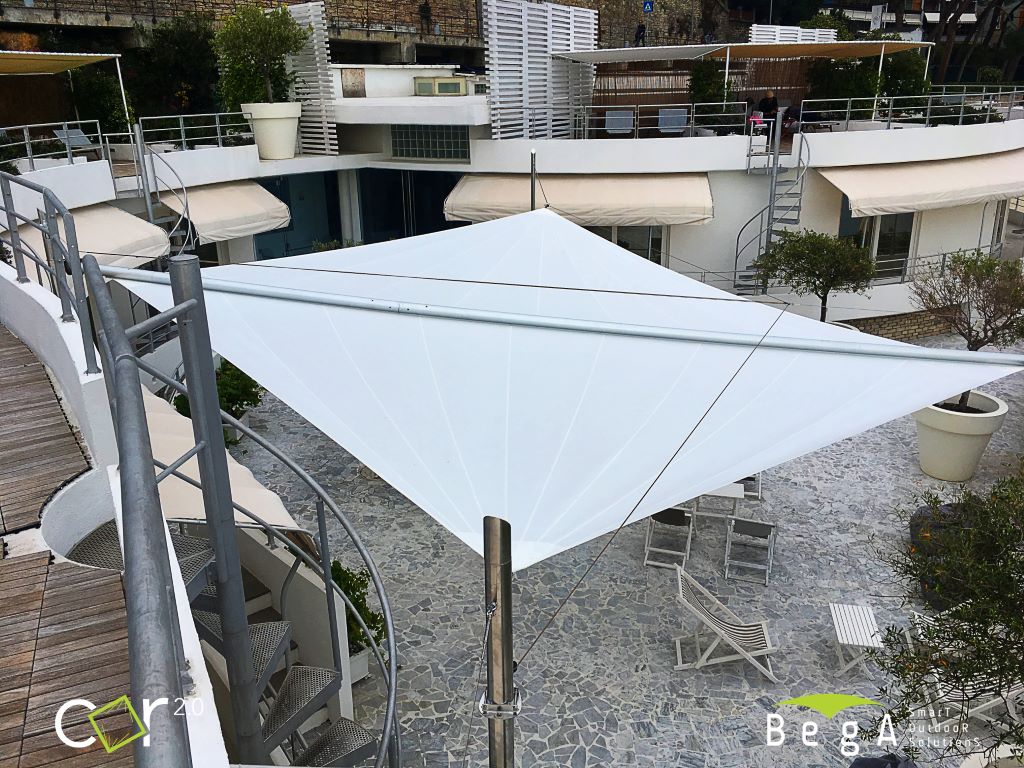 Our Easy Shades are the waterproof shade sails par excellence : made of sturdy polyester 160 grams per square meter, double PU coverage, they are a product that furnishes with style and giving a clean line. They are available in different shapes, colors and sizes. The color chart has expanded every year and now allows you to perfectly match the available outdoor space and the roof. We also have a complete range for anchoring the sail: we have created specific systems to safely anchor the fabrics and fully enjoy them.
Another solution to cover our outdoor spaces with a waterproof sail cover is certainly Velaria. This particular structure allows us to obtain a self-supporting gazebo and to match the waterproof sail of the size or color we want! Entirely made in Italy, it is composed of a sturdy tubular iron painted with the most modern technologies capable of making it resistant to bad weather and corrosion!
If, on the other hand, we want to cover with roll-up shade sails, Maanta is able to offer two products of great value: CoR 2.0 and OmbrelA .
CoR 2.0 represents the evolution of furling sails as, thanks to its CtR (Constant tension Release) patent, it is able to keep the covering fabric taut in every situation. This translates into greater wind resistance, greater safety, ability to reach up to 70 square meters when the competition does not exceed 50. Entirely custom made, with nautical components, Somfy motorized and with different possibilities of choice between waterproof sheets is certainly the best performing product on the market.
OmbrelA, on the other hand, is a free-standing umbrella. Its particularity is certainly the design, which incorporates the famous desk lamp. The solutions adopted make it possible to have a 7-meter cantilevered furling boom that develops an area of ​​24 square meters, which is unthinkable for any other motorized winding umbrella. It is made entirely of brushed and electropolished 304 stainless steel.
Maanta: the widest choice of waterproof sail shades!
MaantA Shade Sails - Waterproof fabrics
TYPE OF FABRIC
POLYESTER
WEATHERTECH
POLYPROPYLENE (OLEFIN)
WEATHERTECH
POLYPROPYLENE (OLEFIN)
FABRIC WEIGHT
160g/m²
270g/m²
270g/m²
ECO-COMPATIBILITY'

3/5

5/5

5/5

SEALED SEAMS
YES
YES
YES
MAX AREA
30m²
36m²
42m²
PERSISTENCE OF COLOR

3/5

5/5

5/5

WIND RESISTANCE
30-39 km/h
40-50 km/h
51-62 km/h
RESISTANCE
TO TEAR / HAIL

3/5

4/5

4/5

WATERPROOF'

5/5

5/5

5/5

WATER RUNOFF
90%
100%
100%
CONDENSATION RISK

3/5

-
-
WATER COLUMN
50 mm
500 mm
500 mm
PERCEIVED FRESHNESS

2/5

4/5

4/5

RESISTANCE TO MOLD

3/5

5/5

5/5

ABRASION RESISTANCE

3/5

5/5

5/5

RESISTANCE TO TENSION

3/5

4/5

5/5

UNIFORMITY TENSION

2/5

4/5

5/5

FABRIC CUT
in bands
in bands
radial
YEARS WARRANTY ***
2
3
4
COST PER SQM
ca 4€ / m²
ca 29€ / m²
ca 39€ / m²
CUSTOM SIZES
NO
YES (+8€/mq)
YES (+8€/mq)
DISCOVER!
DISCOVER!
DISCOVER!
* with correct application of tension 45 kg for each corner
** with a minimum inclination of 1m
*** the warranty is recognized for products installed as per our guides and only on manufacturing defects
Waterproof sun sails from Maanta are made of extremely resistant, rainproof polyester. The specific shape of the sails enables extremely tight tension and avoids annoying wrinkles and sagging, which can impair the water-repellent effect.

The double PU coating provides extra long-lasting protection against weather and wind.

The new EasyShade 2.0 impress with two exclusive properties that make this sail particularly rainproof:

The permanently sealed seams ensure a seamless connection of the fabric parts.
The X-Tension technology ensures that the fabric is evenly taut, right into the center of the sail!

Waterproof sun sails are often referred to as rain sails or weather sails and are used as rain protection, especially on terraces and balconies, where furniture underneath no longer has to be constantly adjusted.

When attaching the waterproof sun sails, a constant slope of approx. 20 ° must be ensured. This means that the outer ends of the sail (often a sloping corner of the sail is sufficient) must be fastened much deeper in order to allow the rainwater to run off correctly.

We recommend our height-adjustable mast Alu-Simple. The elegant aluminum design is a real eye-catcher and also offers the advantage of being able to raise or lower each sail corner individually.

Waterproof awnings from Maanta

The use of special sail tensioners allows flexible tensioning of the waterproof sun sails: a fabric that is always taut increases the water-repellent effect.

Maanta offers waterproof shade sails in three shapes: triangular, rectangular and square waterproof sails are available in different sizes and colors.

Our EasyShade sun sails are among the most popular waterproof sun sails: made of robust polyester (160g / m²) and provided with a double PU coating, simply a convincing quality product that guarantees a clean and high-quality appearance.

The selection of different sizes and colors is expanded from year to year in order to guarantee our customers the optimal product for their needs.

Waterproof rain sails and all-season shade sails from Maanta: outdoor fun in all weathers!