Shade Sail Poles: Variable Height For Sun Sails
The professional attachment of shade sails is not only an aesthetic aspect, but is above all important for the safety of the installation. Correctly attached shade sails can be optimally tensioned, which has two major advantages: well-tensioned sails offer great wind resistance and avoid dangerous swelling in strong winds. A high tension also avoids a sagging of the fabric in the middle and allows rain to run optimally to the side.

Each sail corner must be securely fastened with a bracket. The use of sail tensioners enables a tight tightening of the fabric and the correction of deviations in the planning.

For our height-adjustable poles for for shade sails, we use as materials aluminum for Alu-SimplE and galvanized steel for Ulisse.


Height-adjustable poles and posts for sun shade sails
Variable height poles for shade sails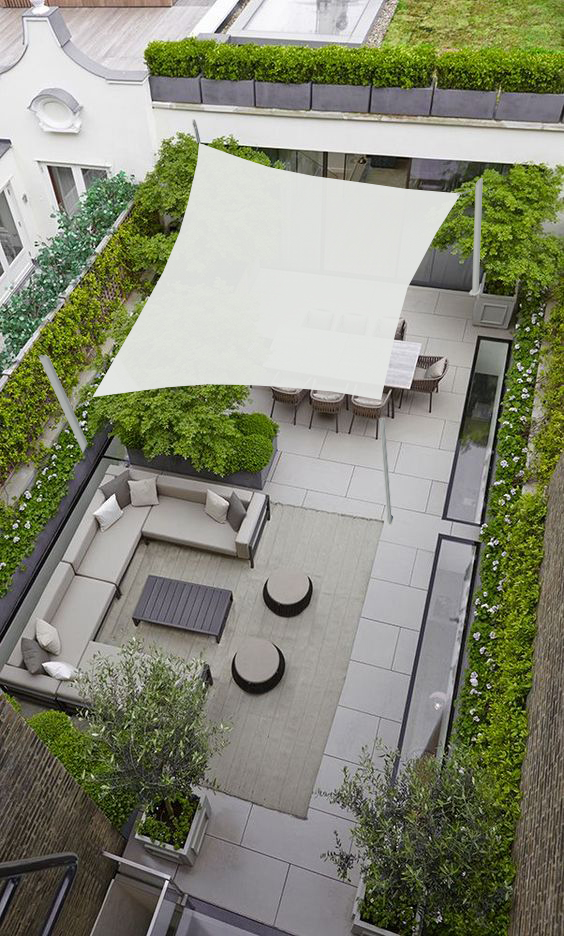 Adjustable pole for sail awnings
You can find palia offers starting from 40 euros, sold as such, but to what extent and for how long can they perform their function? Indeed, a good anchor must be able to withstand the normal stresses that a sail alone holds, which will certainly have to withstand wind and water.
Therefore, the pole must be sturdy enough to cope with the weather conditions. A shade sail pole between 2 and 4 centimeters in diameter can never withstand the wind and water load transmitted by a 10-15 square meter sail. It bends or breaks and the cover falls, resulting in damage to people or property.
Functionality of the poles
One of the advantages of the sun shade sail is that the height of all its vertices is easy to adjust. The water outlet can then be diverted by raising or lowering the vertices. The shadow cone can also be modified to effectively protect us from the sun's rays. In addition, the ability to reduce the height allows us to play with the module. You can also customize the fabric with the design we like best. Therefore, awning poles worthy of the name must necessarily have the ability to quickly and easily raise or lower the tips of the candles.

Resistance to atmospheric agents
This is another delicate point of some solutions that are said to be specific for curtains sailing but that really have nothing to do with the world of awnings. The poles stay out 365 days a year and are often mounted in environments exposed to salinity corrosion. Only a few materials can adapt to these conditions: 316 stainless steel, hot dip galvanized steel and anodized aluminum.

If you are looking for a sail awning pole with adjustable height, choose Maanta: buy directly online and find better quality at web prices!

MaantA Shade Sail Poles
| | | | |
| --- | --- | --- | --- |
| | | | |
| RESISTENZA FLESSIONE | 5/5 | 5/5 | 2/5 |
| COLORI | Silver - Anthracite | Steel - Anthracite | Steel |
| RESISTENZA SALSEDINE' | 3/5 | 3/5 | 4/5 |
| FIXING POINTS | Unlimited | 4 front + 2 rear | from 1 to 3 |
| BASE INCL. | yes | yes | no |
| SAIL FIXING INCL. | pulley system Muscle x3 | pulley system Muscle x3 | none |
| Complete Price | under € 300 | under € 180 | € 250/300 |
| | Discover Alu-Simple | Discover Ulisse | |