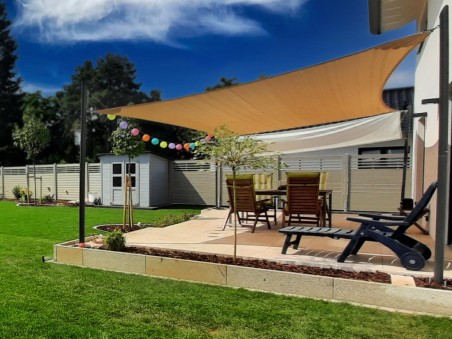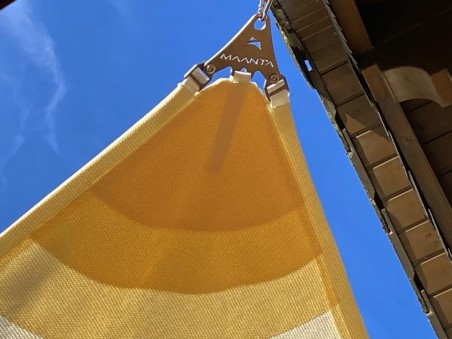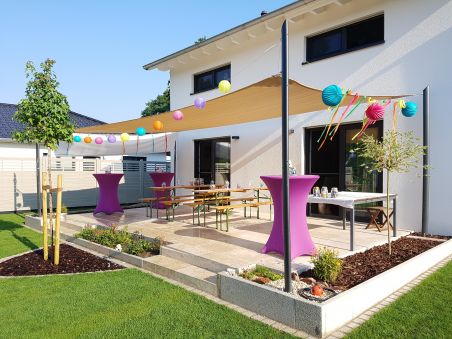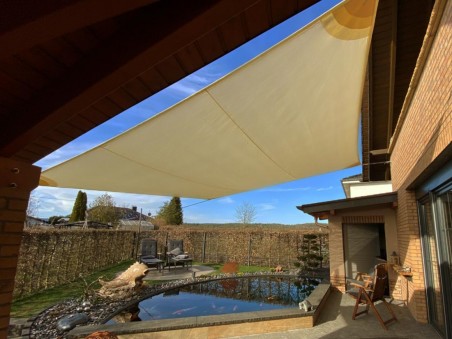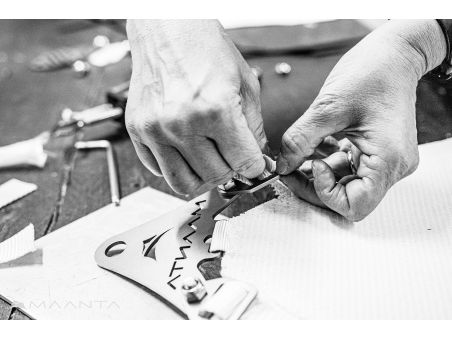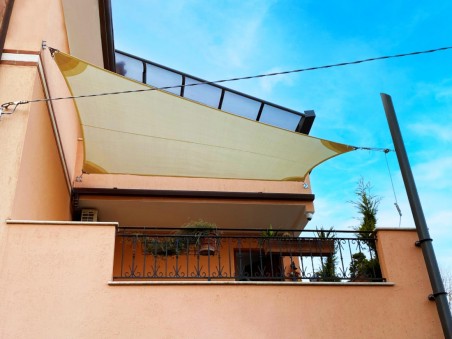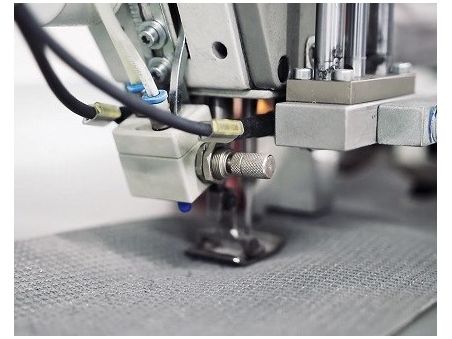 Meshnet 320g

Wind resistance max 51-62

Breathable

Heat shield

3 year warranty
Saill breathable
high quality shade sail
"Saill" is Maanta's high quality breathable shade sail, made in Italy with the exclusive  Meshnet® HDPE 320 gsm fabric. Its main features are - Cross-cut (bands) - Meshnet HDPE fabric 320 gsm- 316 stainless steel rings - Digital stitching - Made in Italy ..

Saill is a very robust sun sail, made with the sturdy 320gsm HDPE fabric.

It provides optimal protection from UV rays, sun and wind.

Thanks to modern technologies, we are able to make extremely precise cuts and seams, obtaining a sail that can be stretched in a better way, thus helping the flow of water and wind resistance.

The great sturdiness is also completed by an extremely precise semi-automatic sewing system and by the choice of a very technical thread.
It is equipped with multilayer reinforcements and oversized stainless steel ring-plates with adjustable straps at each corner.

Available to measure directly from our custom size configurator but also in 15 standard sizes.

Extremely robust Meshnet® virgin polyethylene 320gsm, ensures incredible durability, perfect elasticity, 40% water drainage, insulation and heat shield
Cross-cut cut, Made in Italy, digital cut and stitching, extra-strong seams
Corners with multilayer reinforcements and nautical quality 316 stainless steel ring plates
Over 15 size variants
Custom made available (go to the configurator)
Notice: Our products are designed for residential use. Please read our safety and warranty information carefully
Thanks to our modern technologies it is possible to be very precise both in cutting and sewing fabrics. These two activities seem simple but are the basis of a performing product.
Saill was born from this: a technical fabric to which we combine a digital cut and an automatic stitching . In this way we eliminate the slightest errors that compromise the quality of the product on long routes. The production takes place directly in our factories in order to have complete quality control of every single step, even of the type of thread used in sewing. Saill shows its full potential when tightly stretched: it is incredibly effective in draining the rain and fighting against the wind ..
It is made with a t virgin HDPE polyethylene fabric this allows for better resistance over time and ensures greater tenacity of the fibers compared to a recycled one. The large specific weight of 320 gsm allows for two major advantages compared to the economic version of 180 gsm:greater shade and therefore greater thermal insulation as well as a higher drainage of rainwater (approx. 40%).
The micro-perforated HDPE fabric still allows the heat to vent upwards but this is undoubtedly the right sail when our main enemy is the sultry heat!
It is also resistant to both abrasion (10,000 cycles certified by the ASTM D4966 test) and linear traction.
Saill is available in over 15 standard sizes and also custom-made up to 387 square feet (go to the configurator ).
View our channel
YouTube!
You will find installation guides and much more: click here!
Advantages Saill Breathable

Freshness - Wind resistance
Sturdy 320gsm HDPE fabric, resistant to traction and tension, maximum degree of color resistance, UV protection > 89%, allows hot air to vent upwards and ensures a great heat shield thanks to the thickness of the fabric itself

---

Quality Made in Italy
Digital fabric cutting, automatic sewing, top quality components, multilayer reinforcements

---

3 year warranty
We guarantee the product for 3 years against breakage resulting from manufacturing defects

---

Easy installation, dimensions and custom creation
Easily adaptable to any area to be covered with standard sizes up to 387 square feet and the possibility of ordering made to measure in the most varied shapes and sizes (go to the configurator ).

Features Saill Breathable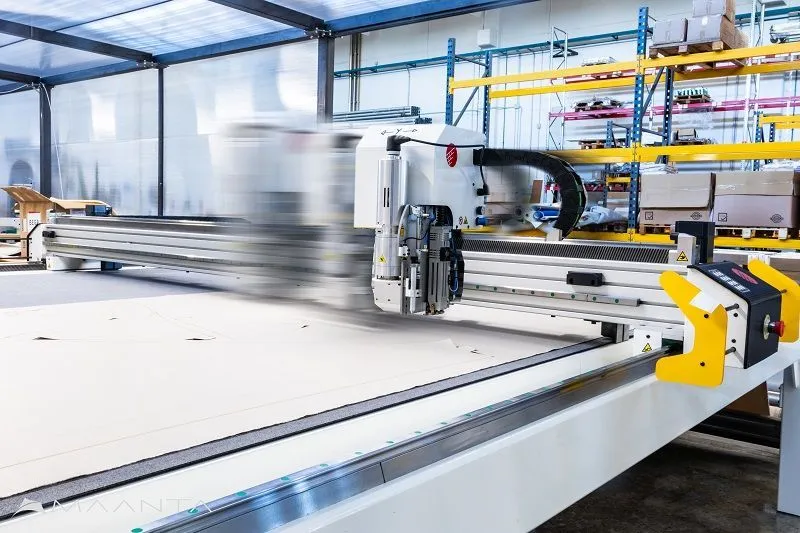 Digital cutting allows for unparalleled accuracy and speed. The result is both product and price optimization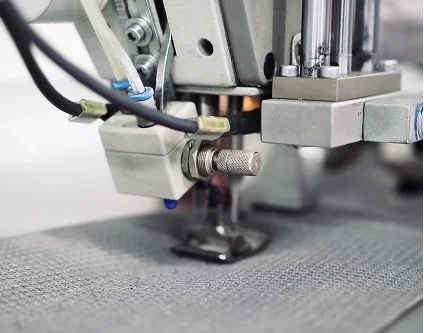 The semi-automatic seams combined with a technical thread allow for excellent strength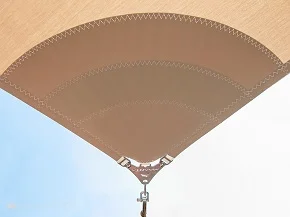 Multilayer reinforcements in addition to strengthening the corners allow the tension to spread uniformly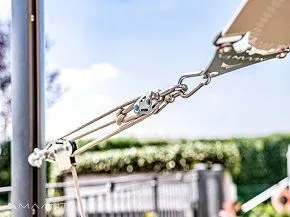 The tension can be developed with special pulleys and force multipliers such as those present on our Muscle Kits and on our Ulisse and Alu-Simple anchor poles
320GSM HDPE FABRIC
a very sturdy fabric, with great color persistence and excellent mechanical qualities. Its thickness will allow you to create a real heat shield on sultry days: it will develop excellent shading, stopping the heat coming from the sun's rays but at the same time allowing the underlying heat to quickly vent upwards.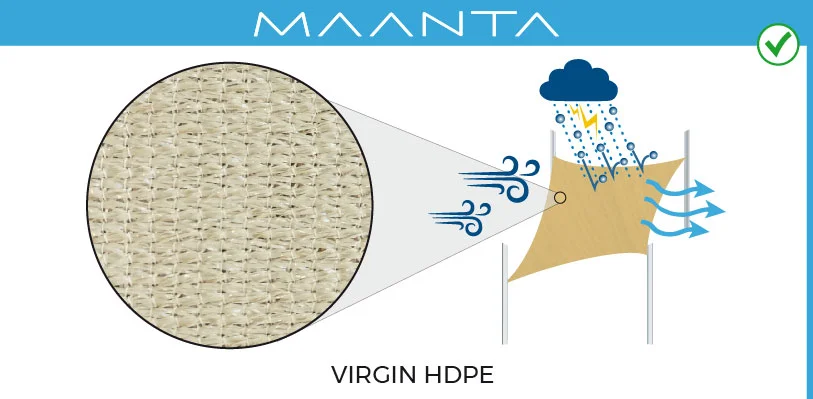 DIGITAL CUT
Thanks to the automated and digital cutting we are able to be extremely precise in the processing of panels and reinforcements, designed by computer. This absolute precision turns into a better finished product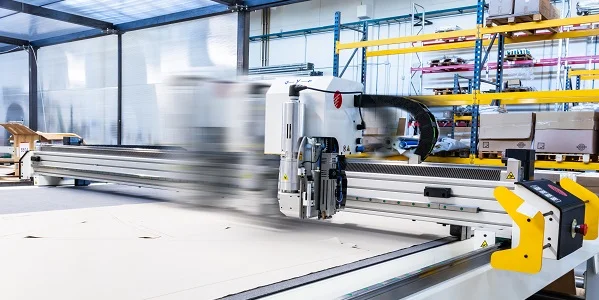 EXTRA-STRONG SEAMS
thanks to the semi-automatic sewing system and a careful selection of high quality yarns, we will obtain sturdy seams over time and suitable for being put under tension/p>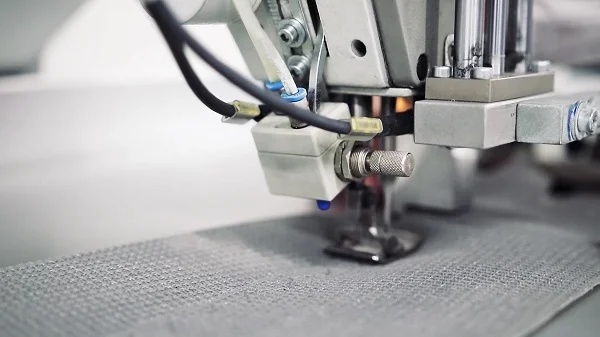 MULTILAYER REINFORCEMENTS
One of the most stressful points of sail awnings are certainly the corners: we reinforce them with different layers of fabric that strengthen and .webpen, helping a correct propagation of force and embellishing the product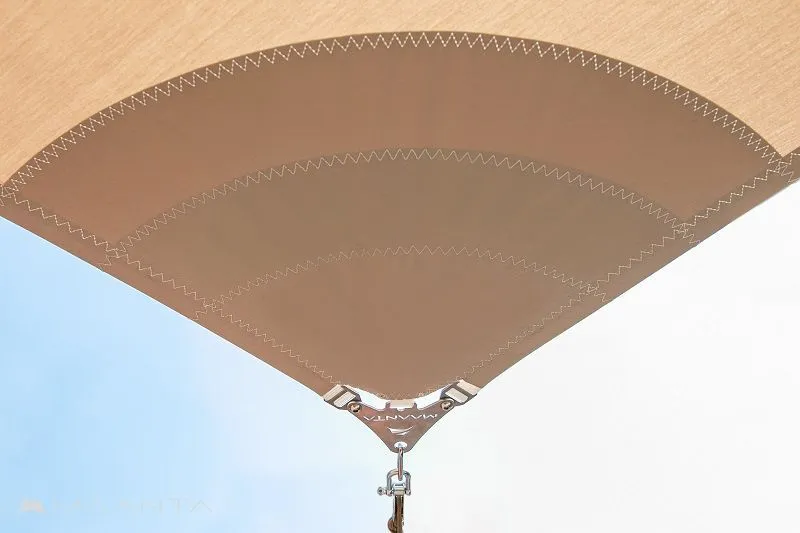 MADE IN ITALY
All processes are managed within our headquarters equipped with digital systems and qualified personnel. Each product is handcrafted but with advanced technologies. Quality control is rigorous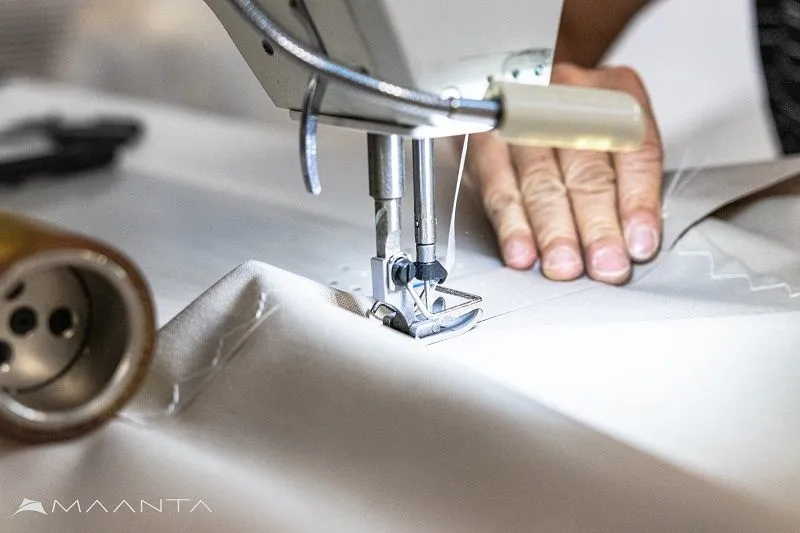 STAINLESS STEEL CORNER PLATES
We use marine grade 316 stainless steel rings for all of our sails.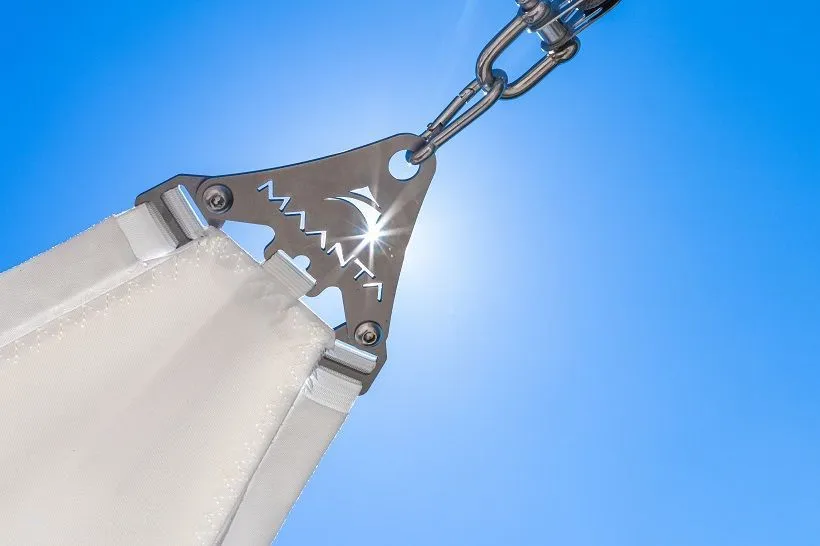 ADJUSTABLE STRAPS
The innovative tensioning system with perimetrable reinforcement straps, individually adjustable, allows a uniform distribution of tension over the entire surface of the sail.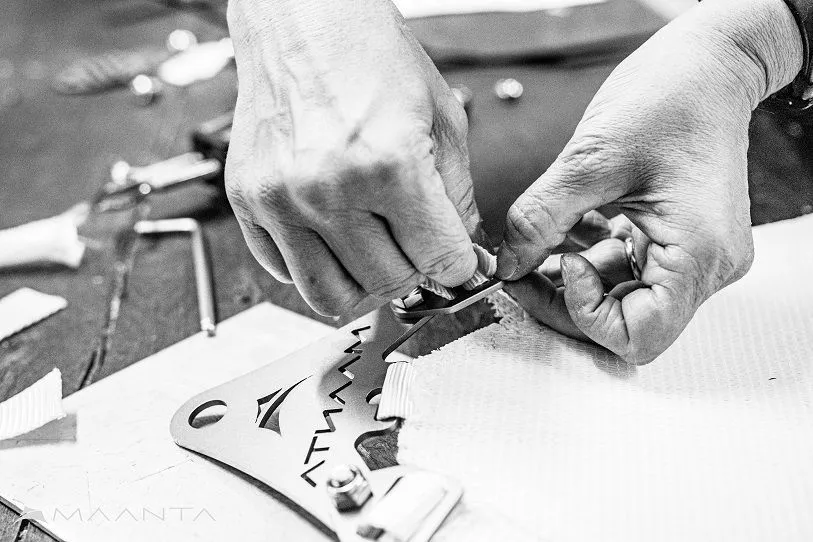 MESHNET 320 COLOURS
4 carefully selected shades for an optimal match in every situation.