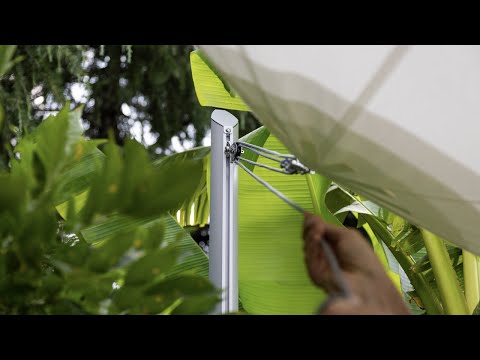 Alu-SimplE
Aluminum Pole For Shade Sails , adjustable variable height
Alu-Simple aluminum shade pole is the first technical pole ever developed for shade sails.
Maanta has been selling it exclusively since 2016 - Powder coated aluminum - Variable sails height - Accessories included.
Alu-SimplE: the kit with adjustable variable height pole for shade sails contains:

1 adjustable aluminum pole with a height of 114 inches (9.5 feet), dimensions 4.8x2.7 inches and thickness 0.1 inch

1 ground plate to be anchored by dowels to be chosen according to the ground

1 Muscle x3 Kit for tensioning and fixing 1 sail corner

1 slider with eyelet in Zinc plated steel with 'Easy Variable Height'

Accessories worth already included


Robust steel base plate with a thickness of 0.4 inches (or rotating wall clamps)


Muscle x3 kit for fastening and tensioning made of stainless steel, rope color "silver"

Small parts and accessories for assembly (except threaded rods)
Notice: Our products are designed for residential use. Please read our safety and warranty information carefully
Important: For sails with sizes over 350 square feet we recommend the use of the rear bracing system.

For assembly we recommend our threaded rods M12 x 13 cm and the chemical anchor M-Plus (not included).