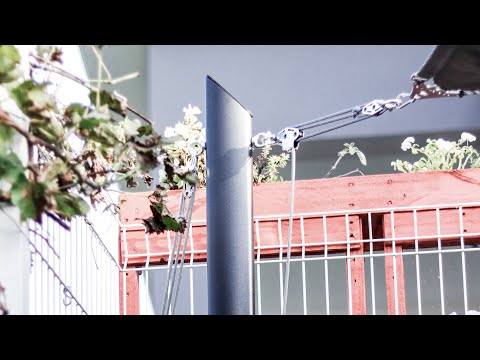 Ulisse
Shade Sail Pole With Variable Height And 6 Fixing Points
The Ulisse shade sail pole is a high tech product, robust but with an elegant, light design and with an efficient functionality.

It has been designed to meet all the needs of sail awnings: maximum flexural strength, the possibility of attaching multiple sails and the possibility of individually adjusting each sail in height.

It combines design and functionality, its elliptical profile is very sinuous and slender but at the same time this gives great structural strength.
elliptical steel design profile:  Height: 108 inches (9 feet) with a diameter of 4 x 2 inches and a thickness of 0.08 inches
incomparable strength, design and flexural strength compared to any round tube.
Industrial painting in anthracite colour
variable and independent height for one or more sails (up to 6). Perfect shade adjustment and dynamic protection from the sun.

Accessories already included:




Robust steel base plate with a thickness of 0.4 inches (or wall clamps)

Muscle x3 kit with nautical rope "silver" for fixing and tensioning made of galvanized steel

small parts and accessories for assembly (except threaded rods)
Notice: Our products are designed for residential use. Please read our safety and warranty information carefully.
Important: For sails with sizes over 250 square feet we recommend the use of the rear bracing system.

For assembly we recommend our threaded rods M12 x 13 cm and the chemical anchor M-Plus (not included).