Choose the best fabric for your Maanta outdoor roller shade!
Quality protection with an outdoor shade requires extremely durable and high-performance fabrics:
UV protection and resistance
All our fabrics guarantee above-average values in terms of temperature resistance, sun factor, UV screening and colour persistence.

Abrasion and tensile strength
To ensure a high level of performance in all situations, we require very high values of tear resistance, elongation and tensile strength.

Thermal and optical characteristics
Elegance and functionality: We are uncompromising in our demands for thermal conductivity (protection from heat/cold), tactile experience and "top class" aesthetics.

Let's discover together the characteristics and advantages of the 3 fabrics!
| | | | |
| --- | --- | --- | --- |
| | | | |
| MATERIAL | Polypropylene | Polyester & PVC | PVC |
| FABRIC WEIGHT | 270 g/sqm | 410 g/sqm | 610 g/sqm |
| WATERPROOFNESS | 5/5 | 2/5 | 5/5 |
| HEAT SHIELD (SUMMER) | 4/5 | 5/5 | 1/5 |
| THERMAL INSULATION (WINTER) | 3/5 | 2/5 | 5/5 |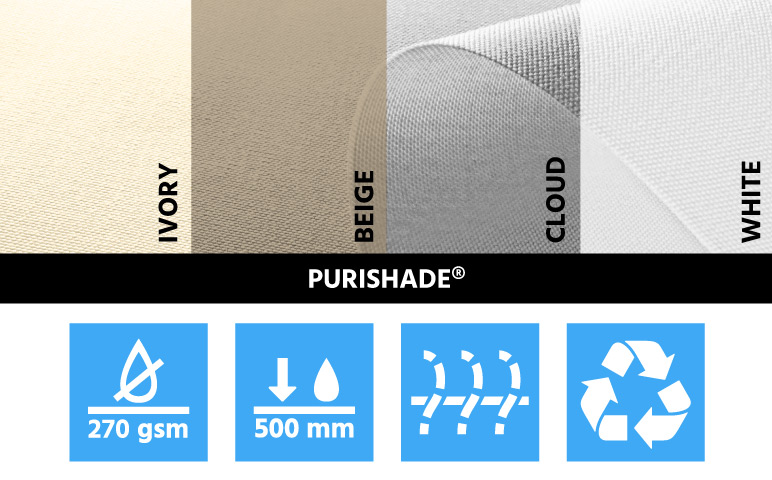 WeatherTech Waterproof 270g
Revolutionary waterproof polypropylene fabric, the result of years of development and research:
The advantages of Weathertech:
absolute water resistance> 500mm water column
high breathability> up to 4 times higher than conventional polyester and acrylic fabrics
up to 50 times more abrasion-resistant than conventional polyester and acrylic fabrics
It is made with respect for nature (certified low environmental impact). Find out all the details about this revolutionary fabric on the information page "Weathertech"!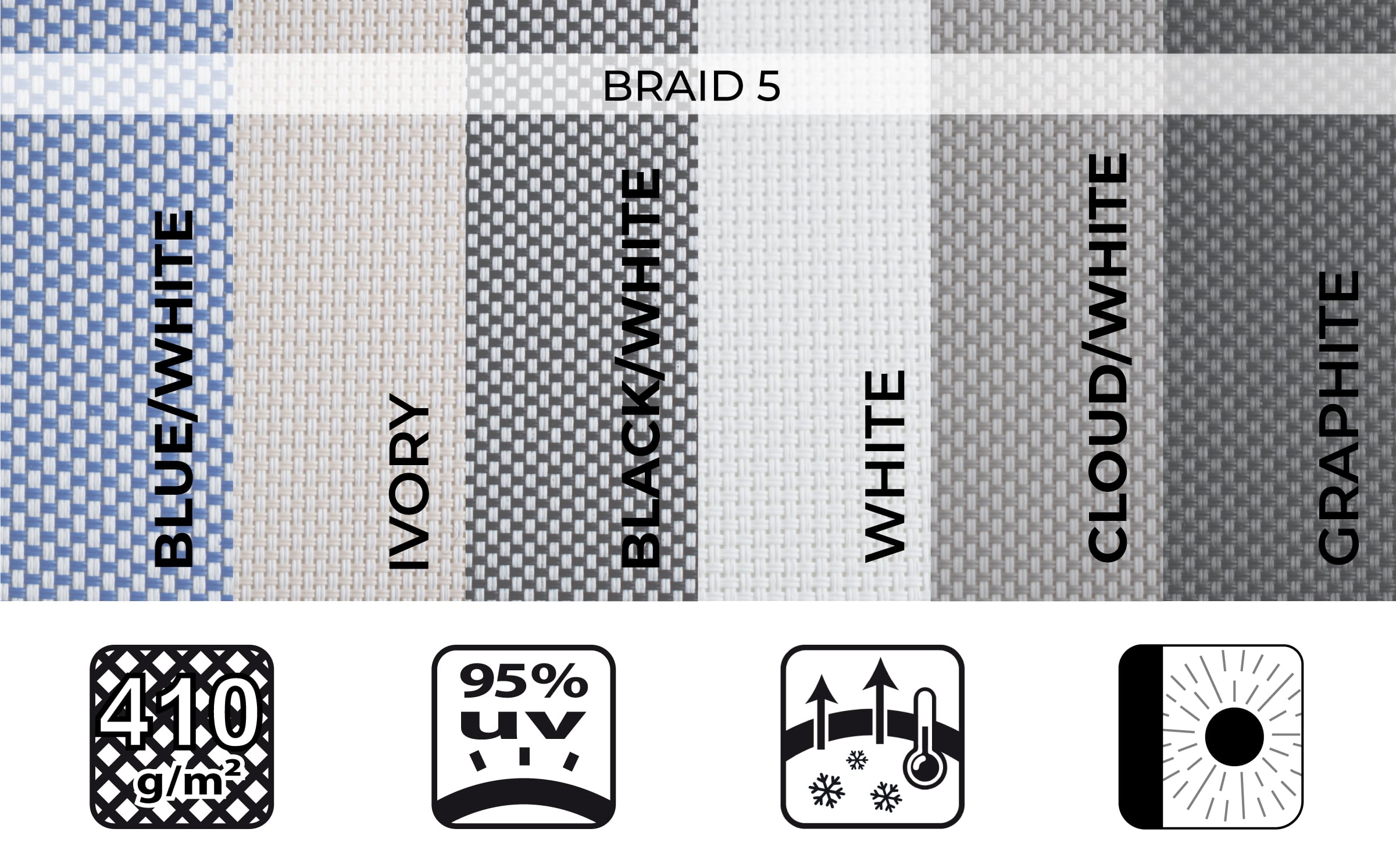 Braid 5 breathable 410g
Technical fabric made of polyester and PVC, ideal for air-permeable, breathable, elegant and very robust sun protection.
The advantages of Braid 5:
Heat shield effect> very high breathability and air circulation
95% blocking of UV rays
Elegant braid with high tensile strength> 1600N x 1500N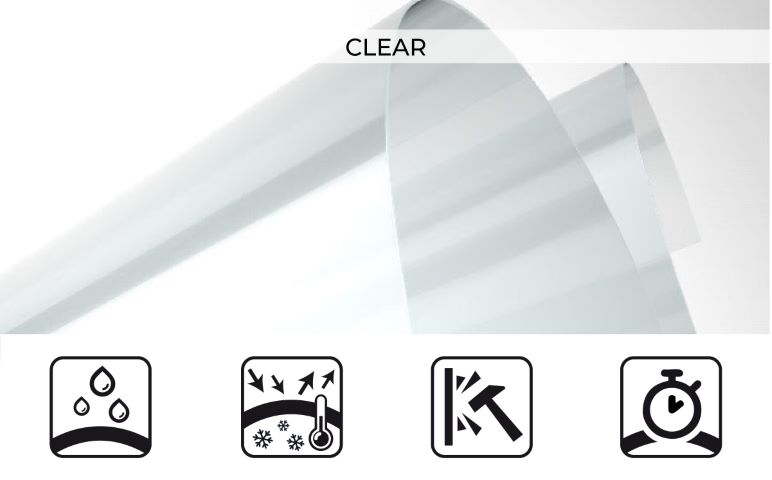 Clear transparent610g
Transparent PVC film. Extremely light, weather and UV resistant. Clear is also a great thermal insulator and is free from harmful chemicals.
The strengths of Clear 610g:
Excellent optical (transparency) and thermal properties (-20 ° C to + 65 ° C)
Excellent mechanical properties > very high tear strength
Soft feel and excellent UV and weather resistance
Thanks to its properties such as softness, strength and transparency, Clear 610g is ideal for the production of awnings that can be lowered, for closing terraces, pergolas and balconies at any time of the year.
Would you like to see our innovative fabrics for drop-down awnings for yourself?
Click here to order samples of Weathertech, Braid 5 and Clear fabrics.
You will receive a free voucher worth 10€ to use on your next purchase!