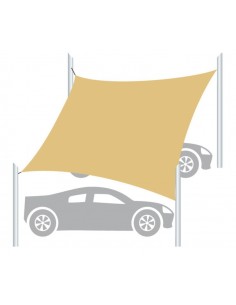 The "EasyShade Parking Kit Basic Module" contains everything needed to create a shade sail car cover based on:


6 "EasyShade" Breathable Shade Sails (anti-wind, anti-hail)


12 Ulisse poles complete with:

base 90 ° or 75 ° or wall collars
Kit Muscle x3 for anchoring and tensioning the sail.

Choose the size of the sail and the color of the Ulisse pole and receive the complete kit to create an elegant and effective car parking cover!

Remember to calculate approx. 30-40cm distance between the corners of the sail and the anchor points. This space will be needed for a correct tensioning of the sail.