<<< MAANTA SUMMER DAYS >>>
For each Saill and Solaria sail purchased you will receive a 15% voucher,
find out more!
Pole offer: free winding cleat and free shipping!
Easy Shade Parking Kit
The 'Easy Shade' car parking cover kit works very simply.
There are 2 versions, leaning against or self-supporting kits which are composed as follows:
1 breathable (non-waterproof) anti-hail shade sail in high-density virgin polyethylene HDPE 180 gr / sqm, with variable sizes and color.

This fabric is much more resistant to wind and hail and is preferable for carports than the waterproof version.

.


2 wall mounting kits (none in the self-supporting version) 'Muscle x3' through which we will fix two corners to the wall


2 poles (4 in the self-supporting version) The poles can be straight with respect to the ground (version 88 ° -90 ° under tension) or inclined (version 75 °).

They must be anchored to a 60x60x60 cm reinforced concrete plinth.

Another version of the poles are those that can be anchored to the walls with "wall collar".
Maanta car covers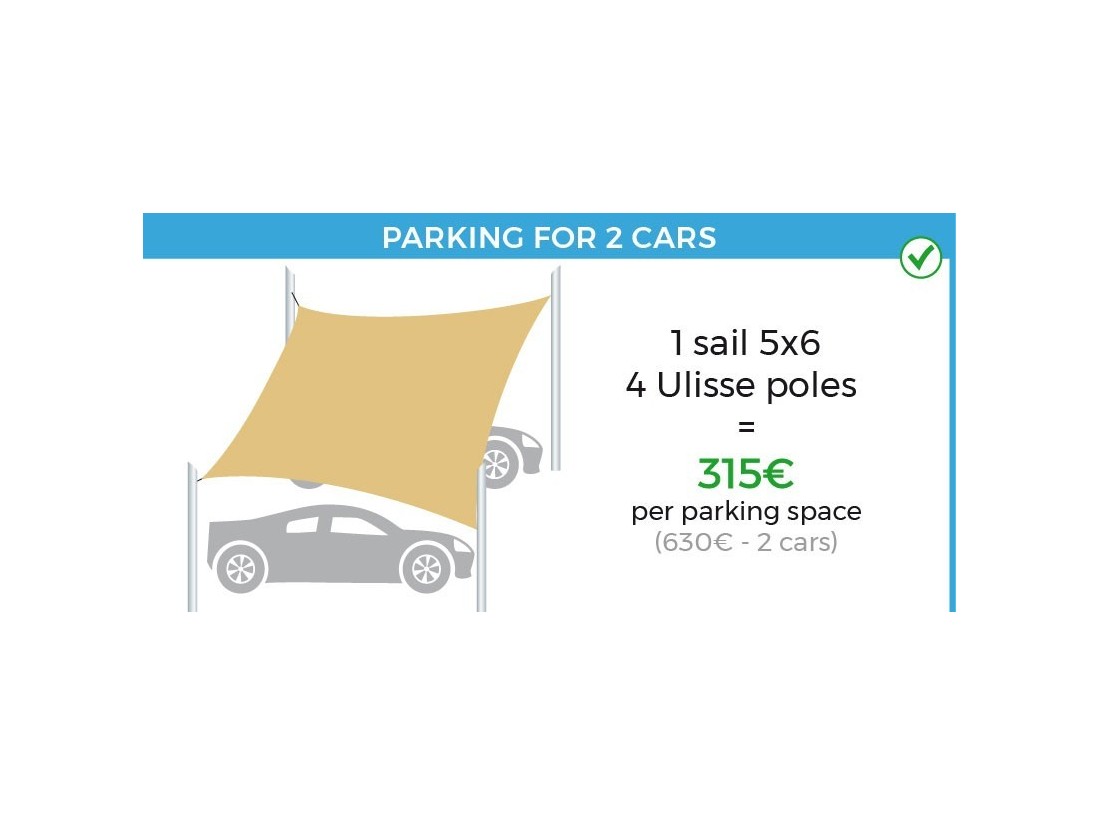 PARKING SHADE SAILS
Shade Sails for covering parking lots are effective and functional protection systems. There are several models on the market, the differences of which are substantial. Maanta deals with the development of canopies, and this is possible thanks to the fact that our covers are temporary: just a few seconds to detach the fabric from the structure and a few minutes to completely remove the metal structure. The carports have different prices depending on the configuration, we have self-supporting models, others leaning against and cantilevered.
METAL CAR COVERS
Metal car canopies are divided into two main categories: steel carports and aluminum carports. If steel is certainly cheaper we can say that aluminum is lighter but at the same time resistant to corrosion. There is no universal "right" solution, but there is a better choice than another based on your situation. Are you close to the sea and can you invest something more in order to have something more resistant against saltiness? Then orient yourself on Easy Shade Parking kit by choosing the Alu-Simple aluminum poles.

Do you live far from the sea but want a cover that is very wind resistant but at the same time able to protect your car dynamically? Nothing better than Easy Shade Parking kit with Ulisse iron poles. The prices are really affordable and start at 180 euros per parking space! Find out more information at this address! Maanta iron and aluminum canopies: the right solution for you!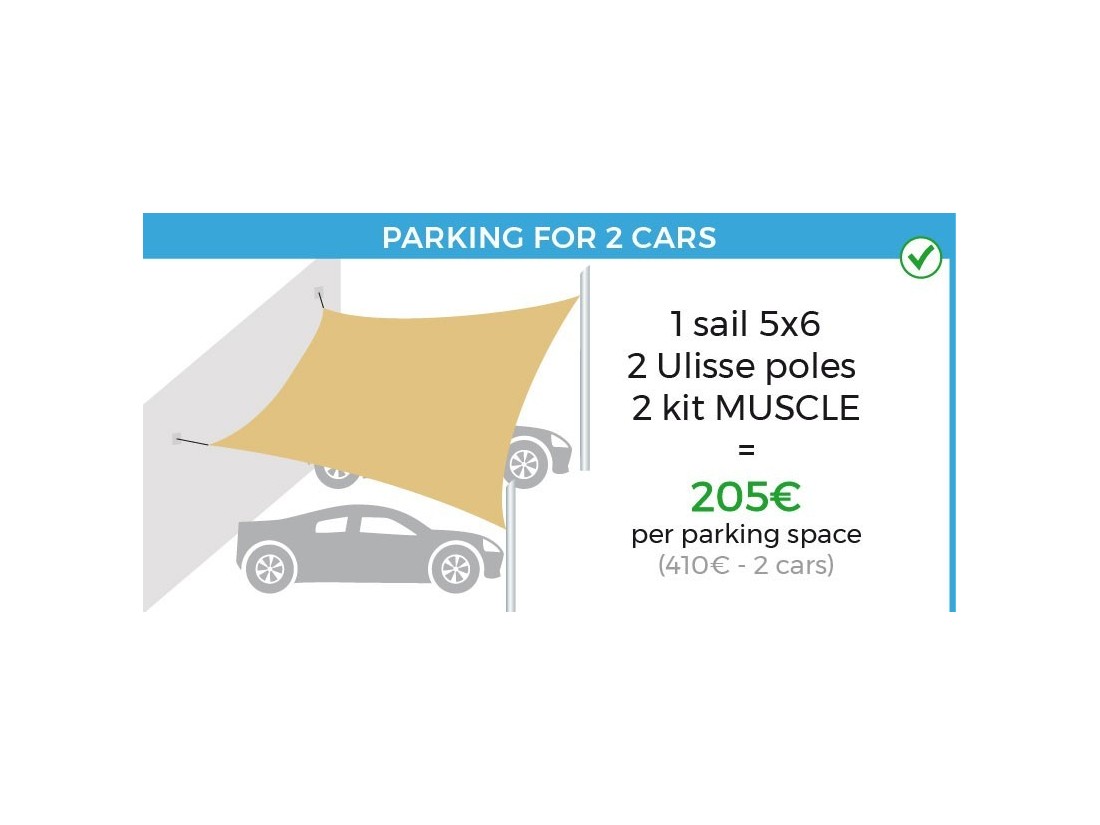 CAR COVERS
There are many car covers available on the market: from metal to wooden structures. Maanta mainly offers two covers for cars without a permit: Easy Shade Parking Kit which is a completely configurable kit in which it is possible to decide on the color of the fabric, size of the cover and type of supporting poles, in aluminum or iron. Prices are very cheap and start at 180 euros per parking space! Discover the advantages of this product here!

As already mentioned above, the structure is to be understood as covers for cars without a permit as the covering fabric is to be considered temporary as it is easily removable. Even the structure, although it must be firmly anchored to the ground, can be easily dismantled in a few minutes and therefore "temporary" and not fixed. Maanta car covers: the perfect, beautiful and functional solution!
SAIL SHADE CARPORTS
With the term shade sail carport we indicate a useful structure to cover and protect our car. Aluminum carports are lighter, more aesthetically designed and more resistant to saltiness while iron carports are usually cheaper. Metallic structures are usually combined with a high-density polyethylene (HDPE) net, better if virgin (more resistant than recycled).

The aluminum carports for cars have variable prices: thanks to Easy Shade Parking kit it will be possible to select Alu-Simple or Ulisse support poles and 5x6 sails and create shade for two or more cars starting from about 400 euros per parking space. In the case of several consecutive modules it will also be possible to hook two or more vertices to the same pole with considerable cost savings. For example, to cover four parking spaces between them, only six poles and 2 5x6 sails will be enough!

The same type of carport can be made with Ulisse iron poles: the aesthetic impact and functionality will be very close but the price will drop significantly as it will be possible to spend around 230 euros per parking space! In both cases we will have a dynamic shadow adjustment, thanks to the possibility of adjusting the height of the individual vertexes of the sail: our car will always be effectively covered! Come and discover this and other advantages on this product sheet! Maanta aluminum carport and iron carport: an economical, functional and efficient choice!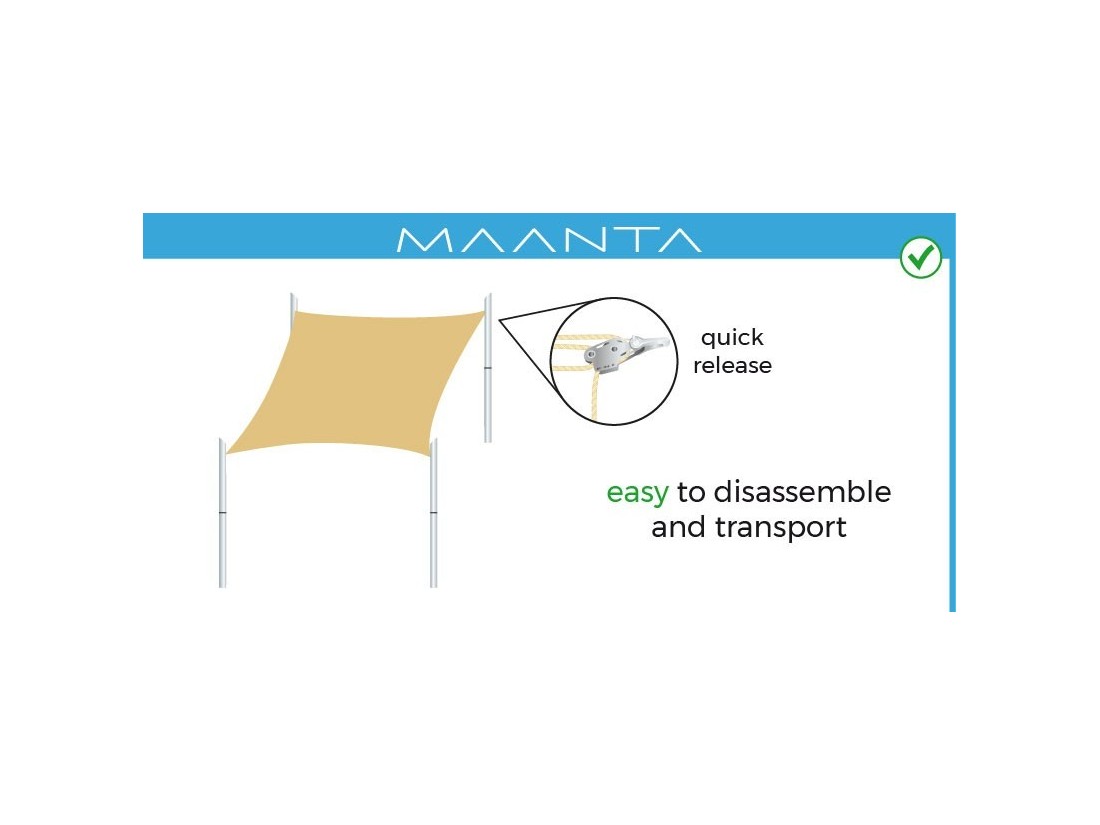 SHELTERS FOR CARS
The car shelters are divided into three main categories: cantilever car shelters, aluminum car shelters and iron car shelters.
The prices of the shading shelters for cars vary precisely based on the type of structure we are going to choose.
The cantilever canopies are very comfortable because they give great freedom of maneuver:
Thanks to Easy Shade parking kit we have developed modular car shelters that are simple to install and economical: prices start at just 180 euros per parking space!
It is also possible to choose the size of the cover sheet, the color and the type of anchor pole as both iron (Ulysses) and aluminum (Alu-Simple) versions are available.
Come and discover the various possibilities on this page!
Car shelters of all prices, colors, cantilevered or not: discover the Easy Shade parking kit!
CAR PARKING COVERAGE
The car parking cover is a theme that interests us all!
Maanta's answer is about contemporary design and is articulated with products that follow our philosophy.
Easy Shade parking kit protects through specific car cover curtains made of HDPE fabric or high density polyethylene.
It will be possible to compose your own specific kit choosing between the dimensions and the colors of the curtains, as well as between the types and colors of poles!
We will be able to effectively shade from just 180 euros per parking space!
Discover this and other advantages by clicking on this address!
The items are comfortably delivered at home and installation will be very simple, thanks to an illustrated assembly manual.
Car parking cover with shade sails and shade sail car canopies: the best solutions only on the Maanta website!